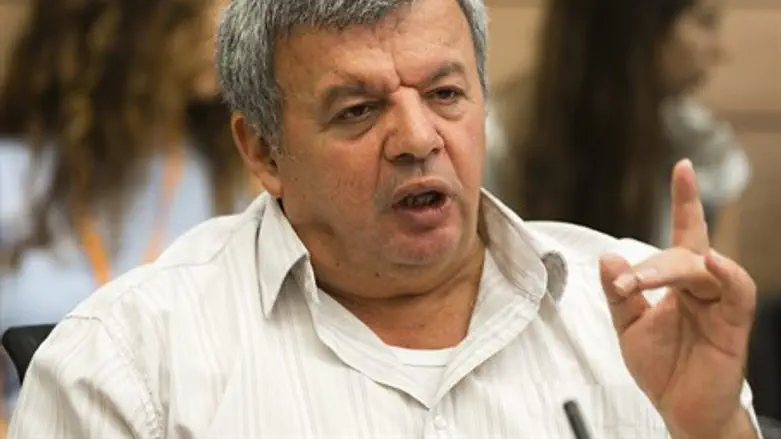 Zevulun Kalfa
Flash 90
The recommendations of the Interior Committee's sub-committee on Jewish prayer rights at the Temple Mount are to be published on Monday.
Reportedly the recommendations will suggest preserving the status quo on the site, by which the Jordanian Waqf (Islamic trust) has enjoyed a de facto rule over the holiest site in Judaism since the 1967 Six Day War, and has banned Jewish visitors from praying.
Committee Member MK Zevulun Kalfa (Jewish Home) opposes the recommendations, which were submitted by members of his Jewish Home party, saying the Committee is missing its goal.
Kalfa wrote to Committee Chairman MK David Tzur (Hatnua), saying the goal of the sub-committee was to organize Jewish access to the Temple Mount, and not to preserve the status quo.
The status quo consists of a constant erosion of Jewish rights to ascend to the Mount, wrote Kalfa, quoting the recent wave of Arab rioting and violence on the holy site, which police and security forces respond to by closing access to Jews.
This trend was clearly illustrated two weeks ago, when Muslim mobs succeeded in blocking Jewish access three days consecutively.
That Sunday, Jewish visitors were removed from the site by police through the Chain Gate on the western side of the Temple Mount, after Muslim rioters threw stones and shoes at them from the Al-Aqsa Mosque.
The script repeated itself on Monday, when police removed a Jewish group consisting of a groom and his entourage through the Gate of the Tribes, after Muslim visitors tried to corner them from different sides in a threatening manner.
Then on Tuesday, a riotous mob formed on the inner side of the Mughrabi Gate, the only point of access for Jewish visitors, prompting Israeli police to submit to their violent outbursts and ban Jewish entry.
Yehuda Glick, head of the LIBA Movement for Freedom of Movement on the Temple Mount, condemned the police submission to Muslim violence, noting the problematic status quo.
"Someone has to wake up before there's a tragedy. We can't give a prize to rioters. The barrage in recent days doesn't bode well; the government has to order the police to take serious preventative actions before this dangerous snowball explodes in all our faces," warned Glick.