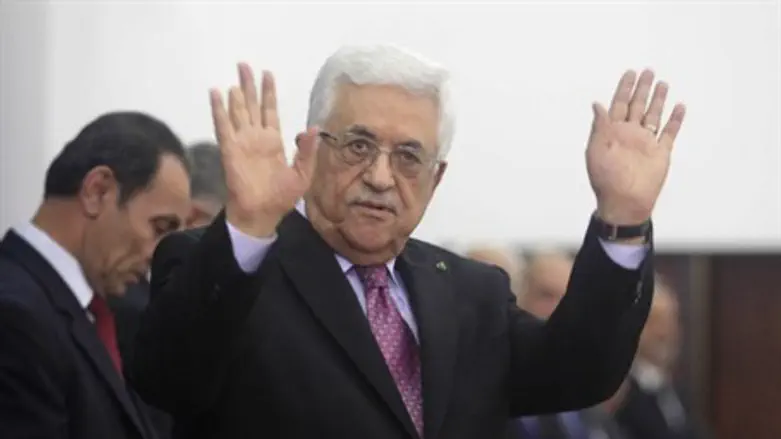 Mahmoud Abbas
Flash 90
Middle East expert Dr. Mordechai Kedar dismissed on Sunday the comments by Palestinian Authority (PA) Chairman Mahmoud Abbas condemning the kidnapping of three Israeli yeshiva students.
Speaking to Arutz Sheva, Kedar said that Abbas was simply paying lip service, similar to that of former PA Chairman Yasser Arafat, who would often make the right statements at the right time in order to appease the United States or Israel.
"He says what is expected of him to say," noted Kedar, adding that Abbas's remarks were nothing more than a meaningless word game. "The question is what does he do with [Hamas]. Whether they continue to be in the same coalition and the same government."
He further predicted that Hamas and Fatah, despite the unity agreement, will continue to separate from one another and would have done so regardless of Abbas's condemnation of the kidnapping which resulted in a condemnation of him by Hamas.
As long as Fatah and Hamas do not give up power and continue to seek to dominate each other, there will never be a true unity between them, said Kedar.
"[Hamas Prime Minister] Haniyeh wants to control Gaza and wants the nearby gas. Hamas will not give up on the country it founded in Gaza as part of its preparation for control of Judea and Samaria," he predicted.
Kedar also reacted to Prime Minister Binyamin Netanyahu's remarks on Sunday that Israel will soon release proof that Hamas was behind the kidnapping of the three boys, and said that Hamas will likely be able to find a way to deny responsibility.
"One does not receive a certificate of membership in Hamas," he said, noting that any person can declare to be a member of Hamas at any time, while Hamas can deny any connection to any person in the organization.