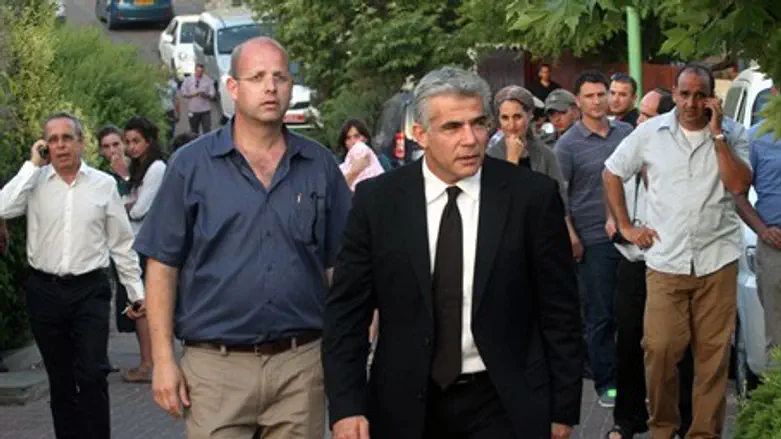 Yair Lapid meets Gilad Sha'ar's parents in Ta
Flash 90
Journalist Emily Amrousi wrote in Yisrael Hayom on Friday details of Finance Minister Yair Lapid's visit to the home of kidnapped Gilad Sha'ar (16) in Talmon, revealing the impact the abduction appears to be having on Israeli society.
Bat-Galim, Gilad's mother, told Lapid on Friday about the groom who arrived at their home on the morning of his wedding as a sign of support to strengthen them, and about the prayers being held worldwide for the safe return of their son and the IDF soldiers searching for him, Naftali Frenkel (16), and Eyal Yifrah (19).
"I too won't be able to look in the mirror knowing that I didn't do the maximum" to free the teens, Lapid told Gilad's mother.
"I haven't prayed for six years. Since the bar mitzvah of my son I haven't been in a synagogue. When the story of your sons broke, I looked through the entire house searching for my grandfather's siddur (prayerbook). I sat and prayed," acknowledged Lapid.
Hundreds gathered in Talmon on Friday for a prayer rally attended by both Chief Ashkenazic Rabbi David Lau and Chief Sepharadic Rabbi Yitzhak Yosef, along with Rabbi Yitzhak David Grossman.
Lapid's prayers come as reports Wednesday revealed Interior Minister Gideon Sa'ar (Likud) has begun to observe Shabbat and attend Torah lessons, in an apparent process of "making tshuva" – becoming religiously observant or adopting a religious lifestyle.
Sa'ar's Shabbat observance includes not answering telephone calls except after the stars come out on motzei Shabbat, marking the end of the sacred day.
Outgoing President Shimon Peres met with the parents of the abducted teens on Thursday at his Presidential Residence.
"Three families like this can lift up a nation to heights previously unknown, and I'm not exaggerating. It's been several days that Israel is different, unified, joined, praying, fighting," Peres told them, remarking on the change in Israeli society since the kidnapping.