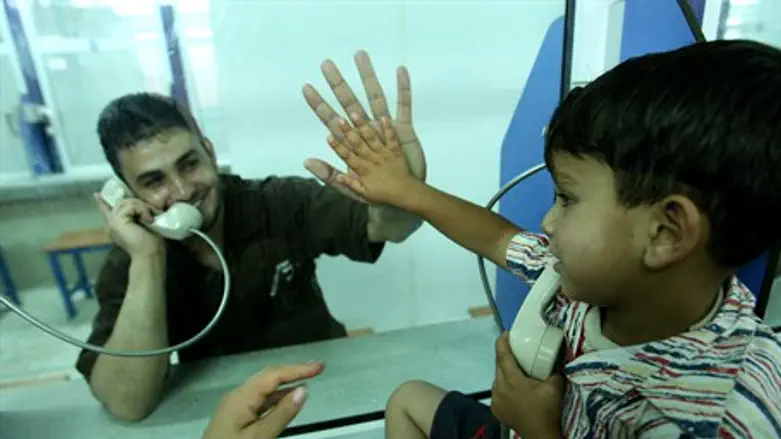 Jailed terrorist at family visit (file)
Flash 90
After the Security Cabinet gave Internal Security Minister Yitzhak Aharonovich a freer hand to impose "harsh" conditions on jailed Hamas terrorists in a decision Tuesday, it was divulged Wednesday that those "harsh" conditions meant no more watching the World Cup on TV or shopping at the jail's canteen.
Retired Warden Shlomo Toizer, former head of the Israeli Prison Service (Shabas) general headquarters, revealed on Friday that jailed terrorists are treated to such luxurious prison conditions simply because Shabas fears prison riots.
"In every cell there's a television, several of the cells have video equipment, they have their own library, their own newspapers, their own canteen, everything is theirs. We don't get involved in these things," Toizer told Galei Yisrael radio.
Toizer compared the conditions of jailed terrorists with jailed criminals, noting just how far the preferential treatment of terrorists extends.
"Sometimes it gets crowded in the prisons; with the security (terrorist) prisoners there's no chance of even one or two prisoners sleeping on the floor. It doesn't happen, they're all on beds," he remarked.
"The conditions of their cells is much better than the cells of criminals, much better. Today when you hear that it's crowded in the prisons, you won't hear with them (the terrorist prisoners) that it's crowded in the prisons," added Toizer.
Discussing the reason jailed terrorists are given such perks, Toizer remarked "we again say that there's concern, we didn't want there to be tension in the prisons. Tension in the prisons has impact on the outside (world)."
"Now that the outside is a mess (with the crackdown on Hamas following the kidnapping - ed.), maybe there's a chance to fix things now," added the former warden.
Some of the "harsher conditions" being suggested include, as mentioned, the cutback on purchases from the canteen where jailed terrorists are accustomed to buying large quantities of food; the change will make their prison terms less of a gourmet experience.
Other measures include the limiting of visiting hours for jailed terrorists. A portion of the more serious offenders will no longer enjoy family visits at all.
Aharonovich said Wednesday: "Yesterday the Cabinet decided to appoint me to take stringent steps, and I gave orders to conduct them in the coming days. These are harsh steps, and I will not specify."
A call came on Thursday for another "stringent step." Shuki Blass, a nationalist journalist-blogger and an IDF reservist who has served as a guard in the Ofer military jail, hinted very broadly that prisoners also routinely sexually abuse minors in their tents, and that this undeclared "privilege" should also be denied them.
Released terrorists have revealed on Palestinian Authority (PA) official TV how they enjoyed a life of ease in Israeli prisons. They have also in the past been allowed to pursue a university degree by taking academic courses.