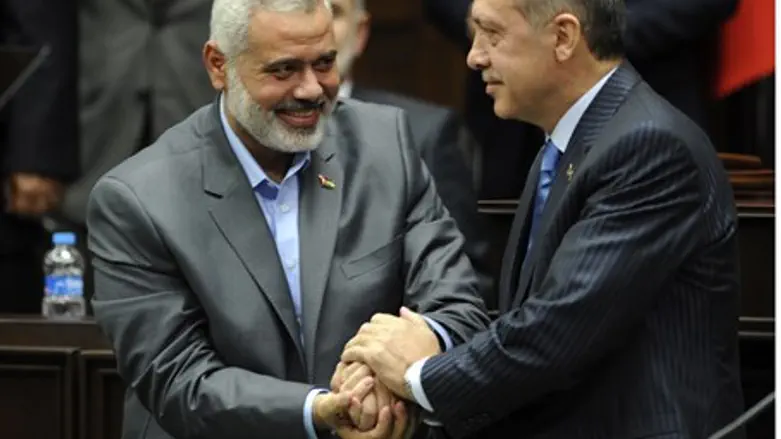 Hamas' Ismail Haniyeh and Recep Tayyip Erdoga
Reuters
A senior IDF source said Thursday that the search for the three Israeli teens kidnapped by Hamas terrorists last Thursday suggests that Hamas leadership abroad, and particularly in Turkey, is behind the abduction.
The source told Walla! that in particular Salah al-Arouri, a Hamas leader living in Turkey, has been a key source behind terror attacks in Judea and Samaria in recent years.
Reports last December revealed that Turkey has replaced Iran as the leading financial backer of Hamas since 2012; Turkey is the only NATO member to recognize Hamas. According to the reports, Ankara has hosted a Hamas presence, led by al-Arouri, which facilitates operations and cash transfers, mostly to Judea and Samaria.
The source noted that al-Arouri in the past lived in a village to the north of Ramallah in Samaria, and has been a major force in founding terror cells in Judea and Samaria, funding and training them to conduct kidnapping attacks.
While Israel still doesn't have the "smoking gun" proving al-Arouri's involvement, the source said "I have no doubt that al-Arouri's hand is behind this."
"You have to understand that this isn't a normal army, and there's no direct command but rather a general directive, and currently the directive remains unchanged - to conduct abduction attacks," commented the source.
In the last two years dozens of delegates for al-Arouri have visited Judea and Samaria according to the source, arriving through Jordan. While several of them were arrested, the security system only learned of others as they were on their way back out of Israel.
Those that were arrested had with them money and written messages from al-Arouri himself, specifically ordering Hamas operatives in Judea and Samaria to establish terror cells to conduct kidnapping attacks.
According to the source, chances that the Hamas leadership in Gaza, or Hamas terrorists released in the Gilad Shalit, are behind the kidnapping are less likely.
"While they also have tried to conduct attacks, their ability to succeed is more limited. For Hamas, a (kidnapping) attack for negotiating has great value, despite the unity process" with Fatah which has been reportedly complicated by the kidnapping, remarked the source.
Discussing the strategy of the terrorists, the source noted "even if the leadership in Gaza is less interested in (rocket) barrages, nothing says they have to stop kidnapping attacks that can end successfully from their perspective. For Hamas, there's one clear order, and that's to continue kidnapping Israelis."
The source noted that al-Arouri has in the past deceitfully used charity institutions to funnel funds to terror cells designed to kidnap Israelis.
There are four Hamas sources that are currently capable of having brought off the kidnapping according to the source, first among them Hamas leadership abroad with al-Arouri foremost, acting under the instructions of Hamas leader Khaled Mashaal in Qatar.
A second possibility is the Hamas leadership in Gaza says the source, followed by Hamas terrorists in Judea and Samaria, although he added that it is harder for them to act given the IDF actions against them.
A final possibility lies in the jailed Hamas terrorists currently in Israeli prisons, who have transferred messages in and out of jail in the past, although their ability to act is further limited.