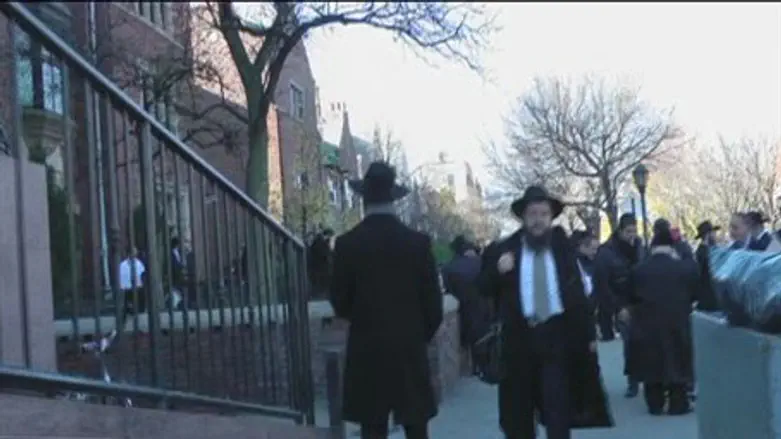 Brooklyn's Crown Heights neighborhood
Yoni Kempinski
Brooklyn Borough President Eric Adams on Tuesday joined together with rabbis and communuity leaders in a prayer rally, calling for the release of the three Israeli youths kidnapped by Hamas terrorists.
The rally in the Crown Heights neighborhood of the New York City borough saw thousands of Brooklyn residents of all faiths join together in prayer for the safety of Eyal Yifrah (19), Naftali Frenkel (16) and Gilad Sha'ar (16), who have been missing for nearly a week, after having been kidnapped by Hamas terrorists.
At the rally, participants recited psalms (tehillim) and heard speakers call for the release of the youths. Emotions ran high at the event, with many community members breaking down in tears, with others demanding the death penalty for the kidnappers when they are caught.
In a statement, New York City Public Advocate Letitia James – the city's second in command behind the mayor – urged city residents and Americans in general to join the "Bring Back Our Boys" campaign, the social media campaign demanding the return of the youths to their families.
"Much as the world stood together to call for the return of over 250 Nigerian girls kidnapped from their school by a terrorist group, we must now join together to condemn this act meant to strike fear into the hearts of the Israeli people," she said. "We cannot allow terrorist forces to threaten the safety of people anywhere in the world. To the families affected by this act, we pray for the safety of your children,"
"I stand unequivocally in solidarity with the many voices calling for the safe return of Israeli youths," James added.
On Monday, several other New York leaders – including New York City Mayor Bill de Blasio and New York Governor Andrew Cuomo, among others – used the Twitter social network platform to express support for the youths.
"Our thoughts and prayers are with the three kidnapped Israeli teenagers. Hoping for their safe and swift return," wrote Cuomo, with de Blasio adding that "My thoughts and prayers are with the families of the three missing Israeli teenagers. May they come home safely—and soon."