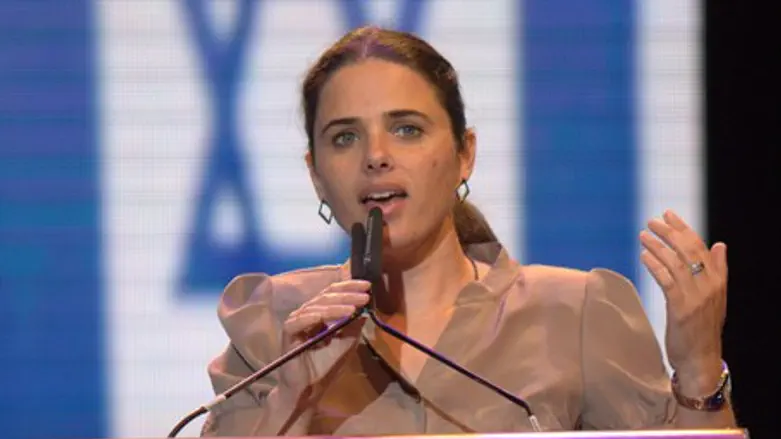 MK Ayelet Shaked
Hillel Maeir
MK Ayelet Shaked (Jewish Home) explained Wednesday that many of the terrorists released in the Shalit deal and re-arrested in the last few days will have their pardons anulled and will go back to jail, to serve out the remainder of their sentences.
"We are starting to change the equation so that abductions do not pay," she wrote on her Facebook page.
"Of the terrorists freed in the Shalit deal who were arrested, a large part violated conditions of their pardon (for instance, going out of a specified area), and therefore their pardon will be anulled and they will go back to serving their full sentence. This is not just administrative detention, but turning back the wheels of the pardon."
"Out of the Shalit deal, there are about 100 'heavy' terrorists who were released into the areas of Judea and Samaria. The IDF would do well to put its hands on all of them," the MK wrote.
"This is a strategic shift," she added. "It is important that as many of them be arrested as possible. That the abduction will damage the achievements of the previous abduction."
An IDF Spokesman said Wednesday morning that as part of the large-scale intelligence and operational activities that the IDF and Israel Security Agency (ISA, or Shin Bet) have undertaken in order to locate the three abducted teens, security forces have arrested about 65 wanted men.
Of these, 51 were freed in the 2011 "Shalit Deal", which saw the release of over 1,000 terrorists in exchange for IDF soldier Gilad Shalit, who was held captive by Hamas for over five years.
Since the start of the operation, said the IDF, about 240 wanted men have been arrested, most of them Hamas members.