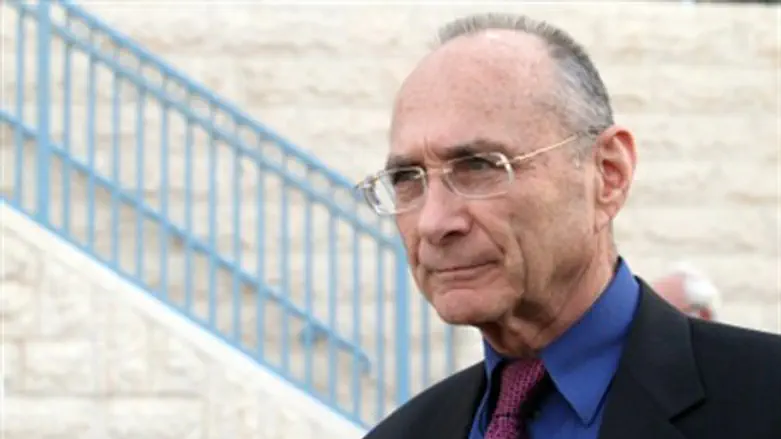 Min. Uzi Landau
Israel news photo: Flash 90
Tourism Minister Uzi Landau (Likud Beytenu) condemned on Tuesday the comments by MK Hanin Zoabi, who earlier expressed support for Hamas's kidnapping of three yeshiva students.
"She is an ambassador of terrorism in the Israeli Knesset. She was on the Mavi Marmara and justified what when on there," Landau told Arutz Sheva.
He added, however, "We should not be surprised. Only in a country like ours you allow those who openly identify with terrorism to be elected and serve in parliament. The problem is with us, not with them."
Landau rejected arguments that having MKs like Zoabi in the Knesset is proof of Israel being a true democracy. "No matter how nice we are, if we treat Abbas's wife and allow the transfer of fuel for the Gaza power station, it will not convince the world which operates in a double standard whenever Israel is concerned."
Earlier Tuesday, Zoabi stated to a shocked interviewer on Radio Tel Aviv that the "kidnappers are not terrorists" and that the kidnapping is a "last resort" for Palestinian Arabs frustrated by their lives.
"They are not terrorists, I do not agree with you!" Zoabi fired. "They have seen no other way to change their reality and they have to resort to these measures until Israel sobers up a bit and feels the suffering of others."
Following the comments, Culture Minister Limor Livnat (Likud) announced that she intends to turn to the Attorney General demanding an investigation into Zoabi's comments and whether they can be classified as an offense under Section 144 of the Penal Code against "incitement to violence of terror."
MKs Shimon Ohayon and Orly Levy-Abekasis (Yisrael Beytenu) have also sought legal action against Zoabi, and filed a complaint with the Knesset Ethics Committee Tuesday afternoon over her remarks.
Zoabi is infamous for provocative speeches, including one in which she said that Israel has "no right to a normal life" and a later address claiming that "the Israeli occupation" was behind the murder of Israelis in Bulgaria. Recently, she declared that Israel should "thank her" for allowing Jews to live in the Jewish State. 
Before the last elections, the Central Elections Committee banned Zoabi, under a clause requiring candidates and parties not to work against Israel's character as a Jewish, democratic state. 
However, the Supreme Court later overturned the decision and allowed Zoabi to run.