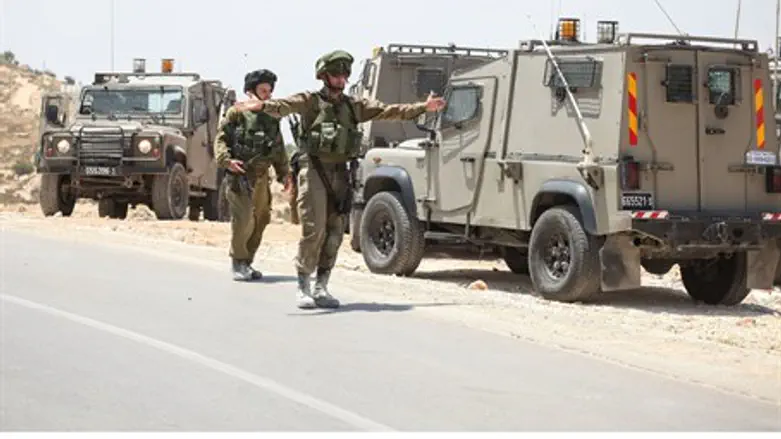 IDF troops search for missing boys
Flash 90
The U.S.-based Human Rights Watch on Monday condemned the kidnapping of the three Israeli youths in Gush Etzion, but also had words of criticism for Israel with respect to its arrest campaign of Hamas terrorists, part of the ongoing investigation into the kidnapping.
"Any Palestinian armed groups unlawfully holding three Israeli teenagers should release them immediately and unconditionally," Human Rights Watch said in a statement.
At the same time, however, the statement said, "Israeli forces searching for the three should respect the laws of war with respect to the Palestinian population in the occupied territory and not carry out mass, arbitrary arrests."
"There is no justification for abducting civilians," Sarah Leah Whitson, Middle East and North Africa director for Human Rights Watch, said. "It is a disgrace to drag children into this conflict, whether Israeli or Palestinian."
With respect to the arrests of more than 150 members of Hamas, the group said, "No one taken into custody should be arbitrarily detained. Anyone arrested should be released unless promptly brought before a judge and charged with a credible offense."
Human Rights Watch also took issue with the general closure on Hevron and the shutting down of crossings to Gaza, as ordered by Defense Minister Moshe Ya'alon following the kidnapping.
"While international law permits restrictions on freedom of movement, they need to be strictly limited and proportional to achieve a specific and lawful aim," said the group's statement.
"Abuses by one side never justify abuses by another in a conflict," Whitson said. "Israeli forces should not impose excessive restrictions on movement or carry out arbitrary arrests while searching for the three missing citizens, and anyone holding the three should release them."
In April, Human Rights Watch accused Israel of "shooting at Palestinian civilians in the Gaza Strip," while ignoring the deliberate provocations of Palestinian Arabs along the border fence.