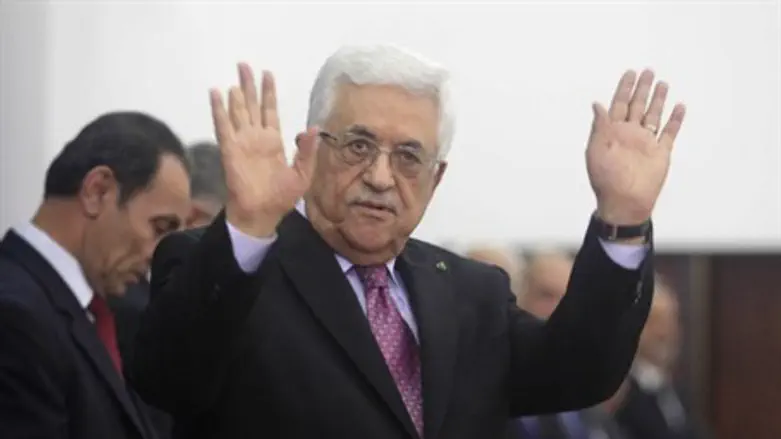 Mahmoud Abbas
Flash 90
Palestinian Authority (PA) Chairman Mahmoud Abbas released a statement condemning the kidnapping of three Israeli teenagers on Monday, according to AFP, but also used it as a platform to hit out at the massive Israeli crackdown aimed at finding those responsible.
"The Palestinian presidency... condemns the series of events that happened last week, beginning with the kidnapping of three Israeli youths," it said.
Abbas also denounced the massive wave of Israeli arrests thus far. Over 150 Palestinian Arab terrorists have been arrested in Judea and Samaria since Friday, most of whom are affiliated with Hamas. 
"We will continue to work intensively for the release of Palestinian prisoners," Abbas continued. 
Prime Minister Binyamin Netanyahu telephoned Abbas shortly after the statement was released, in the first telephone conversation between the two in months.
Netanyahu said he expected Abbas to help ensure the safe return of three kidnapped teenagers, a statement said.
"I expect you to help in the return of the kidnapped youths and the capture of the kidnappers," he told Abbas.  
"The Hamas kidnappers went out from territory controlled by the Palestinian Authority and returned to territory controlled by the Palestinian Authority," Netanyahu told him.
"This case reveals the nature of the terrorism we are fighting against," Netanyahu continued. "Terrorists kidnap innocent Israeli children, while our hospitals rescue Palestinian children as patients."
The reference may be a slight jab at Abbas, whose own wife was treated in an exclusive Tel Aviv hospital this week after major surgery - despite an ongoing incitement campaign against Israel. 
"This is the difference between our human policy and the murderous terror which attacks us." 
"The consequences of the partnership with Hamas must be understood," Netanyahu added. "It is bad for Israel, bad for the Palestinians and bad for the region."