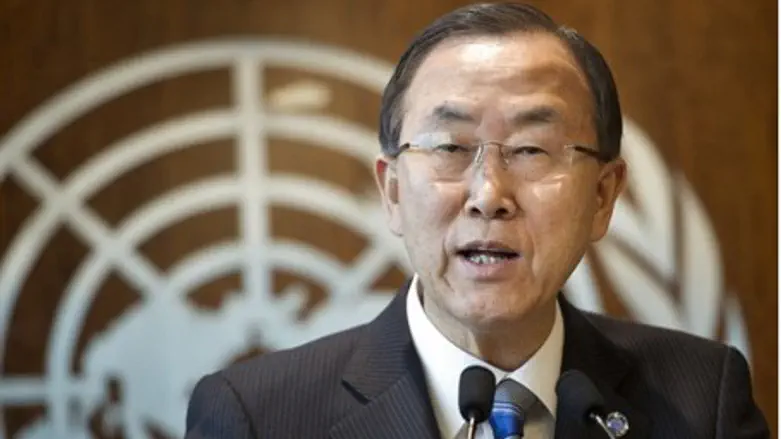 UN Secretary-General Ban Ki-moon
AFP photo
As the world waits for the IDF to find kidnapped teens Eyal Yifrah (19), Gilad Sha'ar (16), and Naftali Frenkel (16), calls have escalated for the international community to provide support and intervention. 
On Monday, MK Orly Levi-Abekasis (Yisrael Beytenu) drafted a letter to the United Nations (UN), joining a chorus of calls requesting immediate and urgent assistance in finding the missing youths. 
"Last Thursday evening, June 12, 2014, three Israeli youths were abducted - two of them only 16 years old," the MK writes. "The kidnapping highlights, among other things, the breaking of all humanitarian boundaries and is a blatant violation of the rights of Israeli children to live their lives safely and without fearing for their lives."
"This is not an issue of combat soldiers taken during battle," she continued, "but of three young boys who were pursuing their Bagruyot [high school matriculation exams - ed.] and spent their time studying at school during the day and with their families on the weekends." 
Levi-Abekasis predicated her proposal on the weapon most commonly levied - incorrectly - against Israel: international law. 
"As the head of the United Nations, I expect you to act in accordance with the International Convention of the United Nations on Rights of the Child (CRC), which states that 'Member States shall take all appropriate measures at the national level [. . .]  in order to prevent the abduction, sale or trafficking of children for any purpose or in any form,'" she stated.  
"Similarly, the CRC provides that 'member states must undertake to respect and to ensure respect for rules of international humanitarian law relating to the child, applying them in situations of armed conflict,'" added Levi-Abekasis.
"The whole world must remember that these are young boys, and this is a grave situation," she stressed. "The United Nations organization in general, and the factors responsible for the safety of children in particular, cannot stand idly by while these boys may be dead for not having done anything wrong whatsoever." 
UN Secretary General Ban Ki-Moon released a statement condemning the kidnappings, calling for the boys' safe return over 60 hours after the kidnapping was first reported in Israeli media.
Much criticism has been levied at the UN not only for the delay in the statement, but for condemning Israel in the same paragraph calling for the boys' release. 
"The Secretary-General condemns the abduction on 12 June of three Israeli students, including two minors, in the West Bank," the statement reads. "He expresses his solidarity with the families of the abducted and calls for their immediate release."
"The Secretary-General again expresses his deep concern about the trend toward violence on the ground and attendant loss of life, including today of a child in Gaza as a result of a recent Israeli airstrike," it continues. "The Secretary-General urges all to exercise restraint and lend their urgent support for the release and safe return of the three youths."