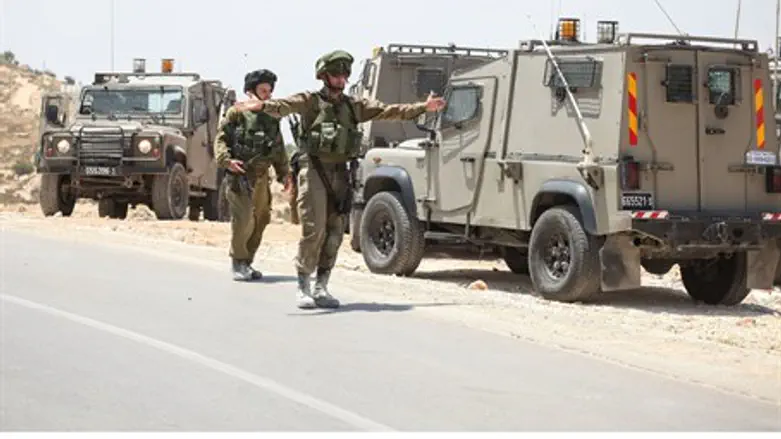 IDF troops search for missing boys
Flash 90
A senior IDF official told reporters Sunday afternoon that in the army's estimation, the three kidnapped teenagers taken Thursday night by still-unidentified captors are still alive, and are being held somewhere in the Judean Hills.
"We are not acting blindly and without guidance," the official said. "The IDF is thoroughly familiar with Hamas' infrastructure in Hevron. Those involved in the kidnapppings were prisoners in Israeli institutions and were released," which gave Israeli authorities insights and information on their terror activities.
So far, no authenticated source has taken responsibility for the kidnappings. Flyers that were circulated in Hevron on Friday claiming responsibility in the name of an unknown local terror group were thought not to be authentic.
Earlier Sunday, Prime Minister Binyamin Netanyahu pegged Hamas as being behind the kidnappings of Eyal Yifrah, Gilad Sha'ar and Naftali Frenkel, the three teens who were apparently snatched or otherwise enticed to enter a vehicle as they were hitchhiking in Gush Etzion Thursday night. Hamas has denied the allegations.
Speaking to reporters, the IDF official said that soldiers had surrounded and closed off several villages in the Hevron area. There is currently a general closure in effect for the entire Hevron area. In addition, the IDF has set up roadblocks and is checking cars thoroughly.
"Hamas is facing a tough situation in Judea and Samaria," the official said. "We were able to foil 30 kidnapping attempts in the past year and a half. Most of those planned kidnappings were aimed at soldiers. Unfortunately, this time our prevention efforts were not successful."
The IDF is very concerned that the tense situation could lead to severe reactions on both sides, the offcial said. With that, he added, the IDF was working closely with the Palestinian Authority on finding the youths. He said that senior army officials did not see the kidnappings as a direct result of the Hamas-Fatah unity government.
Numerous government officials said over the weekend that it was exactly that pact that encouraged terrorists to go through with the kidnappings. Intelligence Minister Yuval Steinitz told Army Radio Sunday that "the PA is logically responsible for the attack in an area [under their control], but also Hamas is represented in their government and its media encourages kidnapping.
"Since the formation of the 'unity government,' the Palestinians have greatly reduced their pressure on the Hamas infrastructure, as well as Hamas activity in Judea and Samaria."
The IDF arrested over 80 Hamas terrorists overnight Saturday in Judea and Samaria, according to the IDF Spokesperson's Office, as part of the wide-scale operation to find three youths. According to a military source, as quoted by Channel 10, several of the arrested were reportedly members of the "unity" government sworn in earlier this month. The source also indicated that a large number of paratroopers and Nahal brigade soldiers had been dispatched in the region.