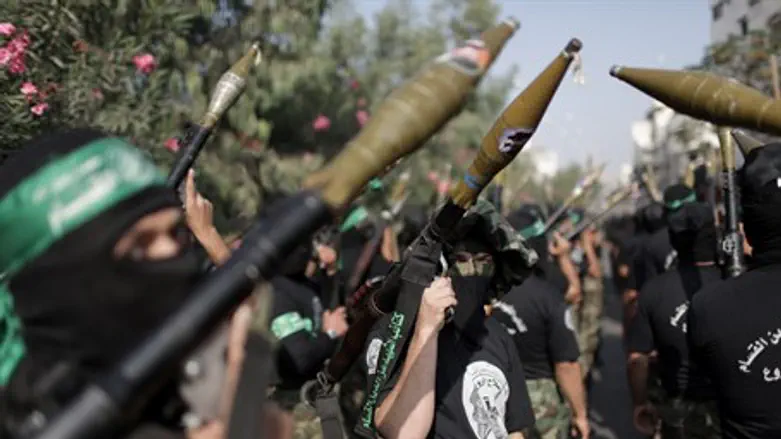 Hamas terrorists
Flash 90
Hamas has denied all involvement with Thursday night's kidnapping of three yeshiva students, calling Israel's accusations "stupid" and claiming the incident is an attempt to "break" the Palestinian "rights" movement. 
"[Prime Minister Binyamin] Netanyahu's statements accusing Hamas of kidnapping the (teenagers) are stupid," spokesman Sami Abu Zuhri told AFP. "These arrests are aimed at breaking the movement and it won't succeed."
He said the wave of arrests overnight, which included Hamas MPs and former ministers, showed Israel had no idea who was responsible.
"The arrest of PLC (Palestinian Legislative Council) members and Hamas leaders is a new Israeli aggression and shows they are flailing around in the dark and we ask the international community to stop this crime," he said.
Netanyahu stated Saturday night that "there is no doubt" the three yeshiva students were kidnapped by terrorists, and he publicly stated Sunday that Hamas is responsible for the abduction. 
"This morning I can say what I was unable to say yesterday before the extensive wave of arrests of Hamas members in Judea and Samaria," Netanyahu said.
"Those who perpetrated the abduction of our youths were members of Hamas – the same Hamas that Abu Mazen [Mahmoud Abbas] made a unity government with; this has severe repercussions," vowed the Prime Minister.

"We are currently focusing all of our efforts on bringing the abductees back home. Before coming here, I spoke again with the families, and I embrace and encourage them from here, from the Cabinet table, and I know that I speak for all parts of the nation."
Overnight, IDF forces arrested over 80 Hamas terrorists, including several senior officials.