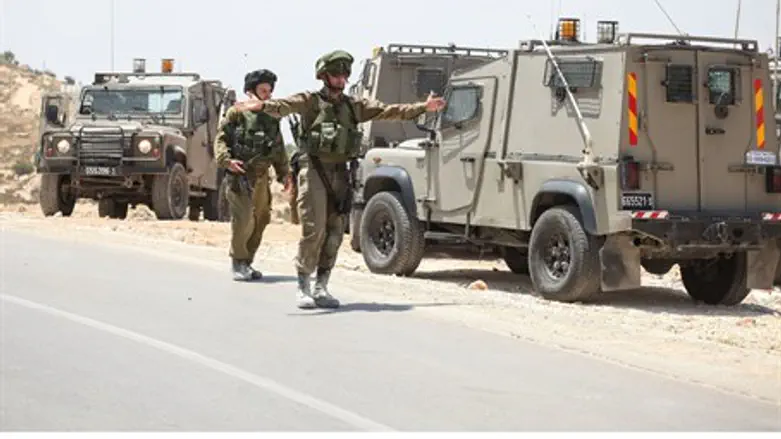 IDF troops search for missing boys
Flash 90
Palestinians in Gaza have celebrated the kidnapping of three Israeli students by handing out sweets to passersby.
The "celebrations" - pictures of which can be seen here - were apparently led by the families of terrorists currently serving sentences in Israeli prisons.
The former head of Israel's Shabak internal security agency has linked the kidnappings to previous prisoner releases, saying that far from ensuring the security of Israeli citizens, such moves only make further kidnappings more likely.
"We should stop releasing terrorists for kidnapped soldiers, or releasingterrorists instead of implementing a construction freeze [in Judea and Samaria - ed.] during peace talks with the Palestinians - it encourages more kidnappings," Diskin wrote on Facebook.
The claim that Israel released terrorists "in exchange" for building in Judea and Samaria has not been proven, although politicians on the Left have long alleged it.
Meanwhile Israeli and Jewish activists have begun a Twitter campaign in solidarity with the missing boys. #bringbackourboys has already gained significant traction, in large part after the IDF Spokesperson's Unit adopted it.
But anti-Israel activists have attempted to hijack the viral campaign, using it to express support for terrorists and joyfully speculating that the students could be used in a "prisoner swap" to gain their release.