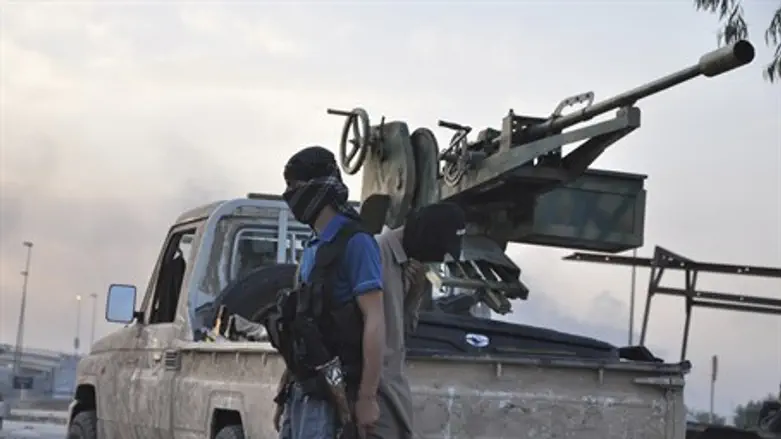 ISIS Islamists in Mosul
Reuters
The Al Qaeda offshoot the Islamic State of Iraq and the Levant (ISIS) has conquered great sections of Iraq since capturing Mosul on Tuesday, going on to expand its control southward over several other cities, with its sights set on Baghdad.
In the process of seizing the oil hub of Mosul, the Islamists made off with not only various American military equipment, but also an enormous amount of cash from the city's central bank.
Atheel al-Nujaifi, governer of the Nineveh province where Mosul is located, reported that ISIS pocketed 500 billion Iraqi dinars ($425 million) from the bank, according to International Business Times, which labeled ISIS the "world's richest terror force."
Al-Nujaifi added that a "large quantity of gold bullion" was also seized, in addition to large quantities of cash from banks all across the second-largest city in Iraq.
The amount seized by ISIS puts its holdings on par with those of small nations such as Tonga, Kiribati, the Marshall Islands and the Falkland Islands.
Indeed, according to the website Money Jihad, which uses journalistic and academic sources to estimate the wealth of various terrorist organizations, ISIS is now the wealthiest such group in the world.
The Washington Post referenced the site, noting that the Taliban reportedly had between $70-400 million at one-point, with Hezbollah boasting between $200-500 million. Al Qaeda, which ISIS broke off from, had a mere $30 million budget at the time of the September 11, 2001 attacks, according to the US Council on Foreign Relations.
"We can't beat them"
US-trained Iraqi army forces have proven unable and unwilling to confront ISIS, turning tail and leaving their equipment for spoils according to reports. In its desperation, Iraq has called for civilians to volunteer to fight ISIS, offering to arm them.
One Iraqi army officer told The Independent "we can't beat them. They're trained in street fighting and we're not. We need a whole army to drive them out of Mosul. They're like ghosts; they appear to hit and disappear within seconds."
Israeli experts suggest that the extended reach of ISIS, which also threatens Jordan with its aims of a massive regional state under Islamic law, could also pose a serious threat to the Jewish state.