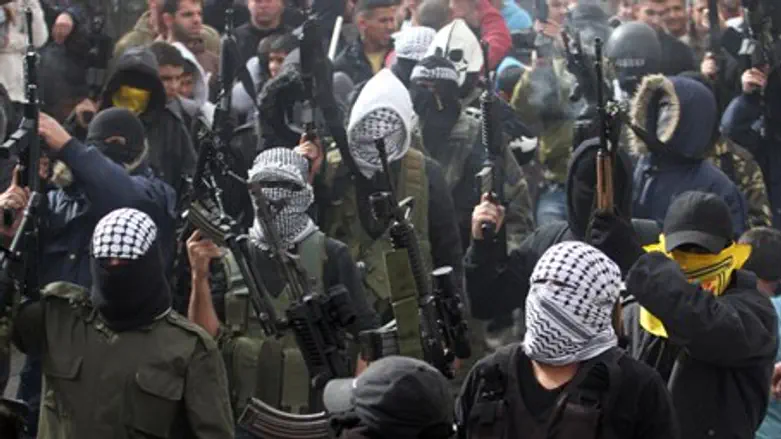 Fatah's Al Aqsa Martyrs' Brigade in Kalandiya
Flash 90
Palestinian Authority (PA) Chairman Mahmoud Abbas's Fatah faction recently posted a film excerpt on its Facebook page, which demonstrates that terrorism is a feature of "unity" between Hamas and Fatah.
The film, "The Revolutionists of the Land," was produced by Fatah's military wing the Al-Aqsa Martyrs' Brigades, which is recognized as a terrorist organization. It was posted on Fatah's Facebook on May 14, a day before "Nakba (Catastrophe) Day," when Arab rioters demonstrated against the establishment of the modern state of Israel.
The clip, translated and exposed by Palestinian Media Watch (PMW), can be seen here:
In the excerpt, Fatah honors arch-terrorist "heroes" such as Abu Jihad, who killed at least 125 Israelis in terror attacks, and Abu Iyad, head of the Black September terror group that murdered 11 Israeli athletes in the 1972 Munich Olympics.
Specific terror attacks, such as the Coastal Road massacre led by Dalal Mughrabi in 1978 that left 37 dead, are hailed as "great operations." Pieces from the film "21 Hours at Munich" are also shown in the clip, as Fatah boasts "the world stood still in view of the Munich operation."
The film's narrator then states "the Al-Aqsa Martyrs' Brigades still have a finger on the trigger. They have revolutionists and Martyrdom-seekers 'who have been true to their covenant with Allah,'" as images of the group's armed terrorists are shown.
Abbas the terrorist leader
One important point the film mentions is that former PA Chairman Yasser Arafat ordered Al-Aqsa Martyrs' Brigades to be established in 2000 as Fatah's military wing, noting the Brigades "excelled in every attack" in the second intifada terror war which started the same year.
PMW points out that while there has been criticism against Abbas for creating a unity government with Hamas, a recognized terrorist organization, Abbas himself heads Fatah, making him the leader of Fatah's military arm - the recognized terror organization Al-Aqsa Martyrs' Brigades.
It is worth noting that members of Fatah have conducted terror attacks in Israel as recently as last Monday.
Abbas praised Munich massacre mastermind Abu Daoud in 2010, saying "he was one of the leading figures of Fatah and spent his life in resistance and sincere work as well as physical sacrifice for his people's just causes." 
Attorney Nitsana Darshan-Leitner, director of the Shurat Hadin Israel Law Center, has exposed that Abbas in fact provided the financing for the Munich attack.