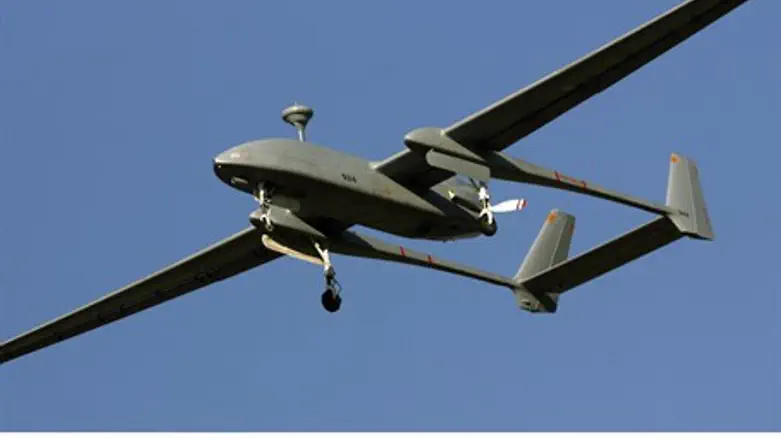 Israeli Heron unmanned drone
Reuters
As Brazilian authorities work hard to crack down on the country's notorious organized crime rings ahead of the World Cup, Israeli technology is playing a crucial role.
This morning, it was revealed that one of the most dramatic illustrations of that fact occurred back in March, when Brazilian police finally nabbed a high-profile drug gang leader known by his nickname "Little P". According to Bloomberg News, the successful operation - seen as an important victory in the government's desperate bid to "pacify" violence in Brazil's slums - was made possible through the use of an Israeli-produced drone.
The Heron reconnaissance drone was produced by Israel Aerospace Industries Ltd., and gave Police intelligence officer Adriano Barbosa a crucial advantage in tracking Little P's movements 24 hours a day for almost a month without being noticed - or posing a danger to police personnel.
Brazil is working hard to develop its own drone industry, given the growing emphasis placed on the use of unmanned aerial reconnaissance to monitor violent criminals in the country's sprawling and extremely dangerous shanty towns, as well as protecting natural resources such as in the Amazon rain forest. But the South American country still has a long way to go in developing a domestic industry of its own, and has been turning to Israel - which is the world's largest exporter of drone technology - to help fill the gaps.
According to a 2013 report by business consultancy firm Frost & Sullivan, Brazil bought roughly $4.62 billion-worth of unmanned drone systems from Israel between 2005 to 2012 - equal to nearly 10% of the Jewish state's defense exports during that period.
Israel is also seen as a valuable partner in developing the country's long-term domestic industry, according to Michael Blades, an analyst at Frost & Sullivan.
"Brazil wants to build its own defense industrial base, and rather than do all the R&D themselves, they like to partner up," he told Bloomberg in April. "Israel has been very strong, and from what I understand more willing to transfer some of the technology."
Key benefactors from that booming trade are IAI and Elbit Systems, but other Israeli companies have gotten in on the act too. 
One of the most lucrative sectors for Israeli companies has been trade with the Brazilian military, where they have beaten out competition from US rivals due to the latter's tighter regulations on military trade.
That's good news, considering the fact that Brazil's defense budget grew an eye-watering four times faster than the U.S. in the past decade.
It's a reality that reflected in Israeli trends as well: between in 2013, defense technology  made up 18% of Israel's $1.1 billion of exports to Brazil, representing a threefold increase since 2008.