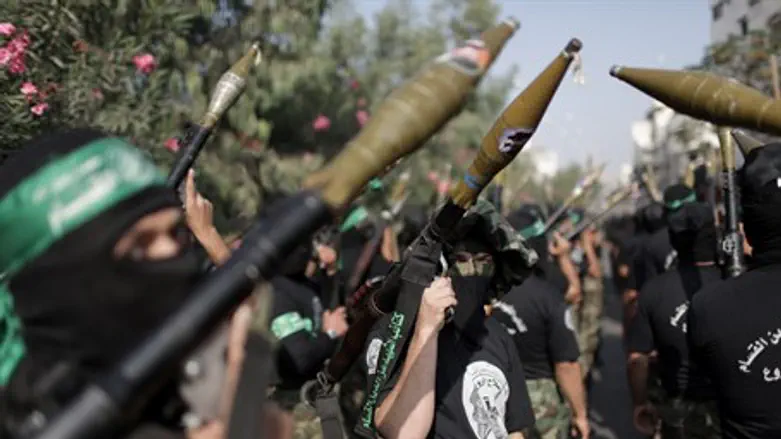 Hamas terrorists
Flash 90
Fathi Hammad, who served as the Interior Minister in Hamas's government in Gaza, recently called on Fatah to join Hamas and "wage Jihad" against Israel.
The comments by Hammad were made in a farewell speech following the establishment of the unity government between Hamas and Fatah. The speech was broadcast by Hamas's Al-Aqsa TV on June 2, and was translated by the Middle East Media Research Institute (MEMRI).
"This is a time to be real men, a time for determination, a time for Jihad, a time for resolution, a time to make sacrifices for the sake of Allah," said Hammad during the speech.
"We are not moved by the beat of drums or by the clapping of hands. What moves us is the whistling of bullets, the sound of bombs and missiles exploding for the sake of Allah, and the capture of [Israeli] soldiers in order to swap them with our prisoners. That is what moves us. This is music to our ears. This is our anthem, our songs," he declared.
"I would like to address our Palestinian brothers in Fatah, and say: come join us. Return to your religion, to your homeland, to your Jihad. We are up to the task. It is us to whom you should turn. Do not turn to the Americans, to the Zionists, to the hypocrites, or to [your] feeble leadership, which has sold out... Turn to us, the group that wages Jihad for the sake of Allah," concluded Hammad.
The Palestinian Authority unity cabinet has been set up as a "non-partisan, independent government" of "technocrats", in an attempt to deflect criticism over Hamas's involvement.
The European Union, the United States and the United Nations, have all indicated they were open to working with the new unity government despite the inclusion of Hamas, an internationally recognized terrorist organization.
On Wednesday, a delegation of European diplomats traveled to Gaza to meet the Gaza-based ministers of the new government, several days after the UN's envoy to the Middle East did so as well.
It should be noted that the video exposed by MEMRI is not the first time that Hammad has incited against Israel.
He has previously stated that Israel will be gone in eight years and appeared in another recent video exposed by MEMRI, in which he spoke before youth campers in Gaza and glorified suicide terror attacks.