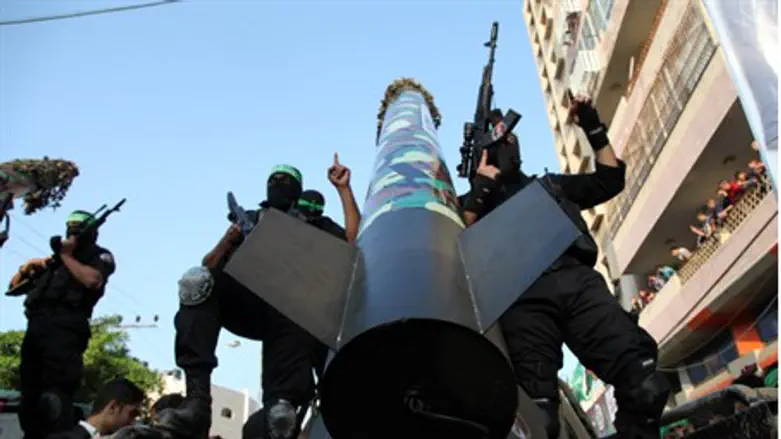 Gaza terrorists parade rocket
Flash 90
A Kassam rocket fired by terrorists in Gaza exploded on Wednesday morning in the Eshkol Regional Council area in the north-western Negev.
"Color red" sirens were sounded, and no injuries or damage was reported as a result of the attack.
The rocket fell right near a central highway by one of the communities in the region.
Roughly 140 missiles have been fired from Gaza terrorists since the start of 2014, AFP quoted IDF sources as saying.
The attack comes just after Defense Minister Moshe Ya'alon warned Tuesday that Hamas is preparing for the next clash with Israel, regardless of the recent unity government formed between the terrorist group and Fatah last Monday.
"Hamas signed the reconciliation pact from a position of disadvantage. It has no better alternative," Ya'alon said during a meeting with soldiers from the IDF's Gaza Division.
"But make no mistake: Hamas is preparing itself for a confrontation with Israel, training forces and storing missiles and rockets," he continued. "It already has thousands of missiles and rockets pointed towards Israel."
Ya'alon concluded, saying "we are taking a very clear policy: quiet is being answered by quiet, and firing is being answered by a harsh response on our part."
There has been a constant trickle of terror from Gaza, with the most recent serious barrage of rockets hitting in mid-March, when roughly 100 rockets struck in the course of three days.