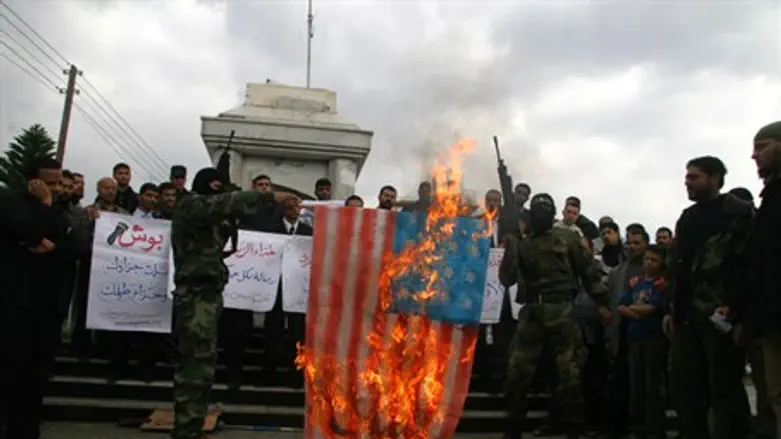 Negotiating? Hamas terrorists burn an America
Flash90
The US has been secretly holding talks with Hamas for months Buzzfeed reported Thursday, despite its official stance that it would negotiate with the terrorist organization.
"Our administration needed to hear from them that this unity government would move toward democratic elections, and toward a more peaceful resolution with the entire region," a US official stated to the "social news" site, on condition of anonymity. "It was important to have that line of communication." 
US officials have publicly denied the charges, however, leading to confusion over the report's veracity. 
"These assertions are completely untrue," US State Department Spokeswoman Marie Harf told BuzzFeed. "There is no such back channel. Our position on Hamas has not changed."
US Ambassador to Israel Daniel Shapiro rebuffed the claim on Thursday, stating emphatically to IDF Radio that reports of "secret talks" are false. 
"We do not have ties to Hamas, we do not work with them, we do not we will give assistance to them," Shapiro fired. "We will not work with a government that has Hamas sitting [in its parliament]." 
The US stated that it was willing to "work with" the Hamas-Fatah unity government earlier this week, as officials stated repeatedly that the decision that the government - while backed by Hamas - does not support terror since it lacks the official presence of Hamas officials. 
Despite this, it is important to note that Hamas recently announced that any "unity" government would be unequivocally subject to their approval before being established - providing a de facto influence in the new government despite the lack of "official" Hamas representatives in the new "parliament."