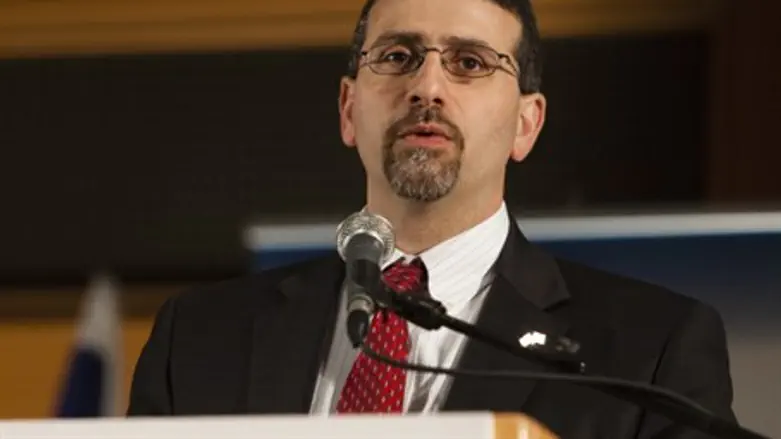 Dan Shapiro
Flash90
US Ambassador to Israel Daniel Shapiro strongly condemned Israel's initiative to build over 1,500 new housing units in Judea, Samaria and Jerusalem Thursday, in a move many perceive to be Israel's response to Hamas and Fatah's new "unity" government in the Palestinian Authority (PA). 
"We oppose settlement construction in the West Bank as well as announcements regarding such construction," Shapiro stated, in an interview with IDF Radio. "We would do so with or without this disputed case of a new Palestinian transitional government."
On Thursday, the Ministry of Housing and Construction announced the building tenders, which were approved as part of Israel's official response to the swearing-in of the "unity" government. 
Later Thursday, the PA issued a sharp condemnation of the announcement, calling on the US to take "serious steps" against Israel over the move. 
"It is time for the American administration to take serious steps against what the government of Israel is doing," Nimr Hammad, an adviser to PA Chairman Mahmoud Abbas, told AFP. "We strongly condemn this decision which affirms that Prime Minister Benjamin Netanyahu is a liar and is not interested in the two-state solution." 
PA Minister Nabil Abu-Rudeineh has also warned that the PA will take unspecified steps in revenge of the building announcement. 
'We Have No Illusions About Hamas'
Shapiro also rebuffed intense criticism launched at Washington earlier this week, after the US State Department stated it would be willing to work with the terror-backed government. 
"We have no illusions about Hamas," he claimed. "Hamas is a terrorist organization." 
Shapiro also denied reports that the US has been working closely with Hamas behind closed doors. 
"We do not have ties to Hamas, we do not work with them, we do not we will give assistance to them," Shapiro said. "We will not work with a government that has Hamas sitting [in its parliament]." 
Both US Secretary of State John Kerry and Deputy State Department spokeswoman Marie Harf insisted earlier this week that the "unity" government does not represent Hamas's interests, citing the fact that Hamas leader Ismail Haniyeh and his associates stepped down from the new government on Monday. 
"It is not a government backed by Hamas. There are no members of Hamas in the government," Harf told reporters.
She added that the new unity government is a transitional one that is made up of individuals who are not politically associated with any party. "Hamas is a designated terror organization in the U.S. and we will not provide it with any assistance. We don't have any contacts with Hamas," declared Harf, who added that Washington would judge the government by its actions.
Kerry also said US preparedness to work with the Palestinian Authority does not mean recognition of a "Palestinian state." 
"The US does not recognize a government with respect to Palestine because that would recognize a state and there is no state," he said.
Despite Haniyeh's resignation, the new government is backed by both organizations. Hamas recently announced that any "unity" government would be unequivocally subject to their approval before being established - providing a de facto influence in the new government despite the lack of "official" Hamas representatives in the new "parliament."