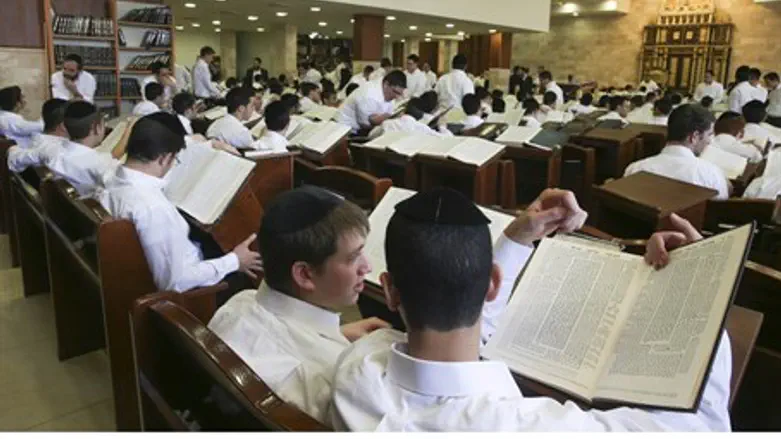 Hareidi yeshiva students
Flash 90
After months of dithering and debate, Finance Minister Yair Lapid agreed to restore NIS 50 million in funding for programs for foreign students attending hareidi yeshivas. However, yeshivas that participate in the program will have to expose their students to some of the "other" side of Israeli life – specifically, taking them on tours of army bases and national sites.
The debate on canceling the funding has been going on for more than half a year. Last October, Lapid said that he would halt the funding. Education Minister Shai Piron (Yesh Atid) decided to amend the funding provided by the Ministry to Torah-centered institutions, so that funding for students from abroad was to be cut by 30% by the end of 2013 and be cancelled completely the following year.
That move was strongly opposed not just by MKs from hareidi parties, but by members of Jewish Home. At a meeting with Knesset Finance Committee MK Nissan Slomiansky (Jewish Home) after the October 1 cancellation, Lapid agreed to rescind the cuts – but only for foreign students attending programs at Religious Zionist yeshivas. The cuts to hareidi yeshiva programs would remain in place.
Slomiansky refused to accept the solution and pushed Lapid to cancel the proposed cut altogether - not only for religious Zionist yeshiva students, but for all yeshiva students, including those attending hareidi institutions. At the time, contradictory reports emerged on whether or not Lapid would agree to this, but in effect the funding for programs has not been forthcoming.
According to Sunday's deal, Lapid has now agreed to fund even hareidi yeshiva programs – on condition that they take students on tours of army bases, the Knesset, museums, and national monuments. The tours would probably take place on Fridays or during yeshiva vacation periods surrounding Sukkot and Passover. NIS 20 million will be allocated for the programs through the end of the current academic year.
In a statement Sunday, the Finance Ministry said that "after renewed evaluation of the matter, and in an effort to connect all segments of the Torah community who are not citizens of Israel to the essence and culture of the Land of Israel, the government will cancel its previous decision rescinding funding for students from the diaspora attending yeshiva programs."