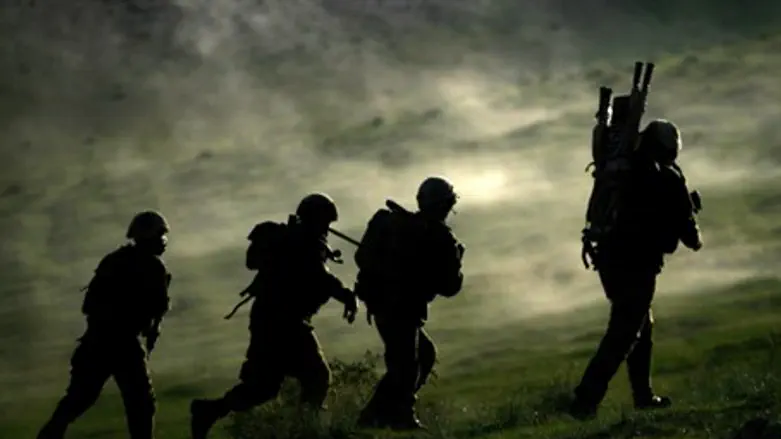 IDF soldiers (file)
Flash 90
The IDF on Friday afternoon began a manhunt in Samaria. Their target: the terror cell that is believed to have been behind the foiled suicide bombing at Tapuach Junction near Ariel which took place Friday morning.
The assumption at this stage is that the suicide terrorist who was captured wearing a bomb belt was brought to Tapuach Junction by three other Arab terrorists, reports Walla!.
The three terrorists reportedly gave the apprehended terrorist clear instructions as to how to detonate the bomb belt.
IDF forces suspect that the three terrorists may have more bomb belts or other weapons, lending a true urgency to the pursuit.
The information likely was provided by the captured terrorist who was brought in for investigation, after refusing IDF orders to remove his unseasonably large coat at Tapuach Junction and then lying on the ground.
Soldiers and police were able to arrest the would-be bomber before he caused any damage, and a bomb disposal squad was called to the area to dismantle the explosives.
Watch: IDF detain would-be suicide bomber
A senior military official said that the terrorist who was apprehended had no past history of connections to terrorism. The source added that the terrorist said in investigation that he was supposed to detonate the explosive himself, as opposed to some other terrorist detonating it remotely.
"This is a serious rise in intensity in the attempt of the Palestinians to harm innocent civilians," said Gershon Messika, head of the Samaria Regional Council. "It's clear the Palestinians aren't for peace. The time has come for the Israeli government to recognize that, and rebuke whoever dares say that Israel is to blame for the peace talk failure."
The foiled suicide bombing was not the first attempted terrorist attack at Tapuach Junction in the past months - in mid-April police officers foiled another stabbing attack. Police noticed an Arab man acting in a suspicious manner. Upon investigation, the officers found a knife in his pocket.
An initial investigation revealed that the man intended to stab an IDF soldier at the junction.