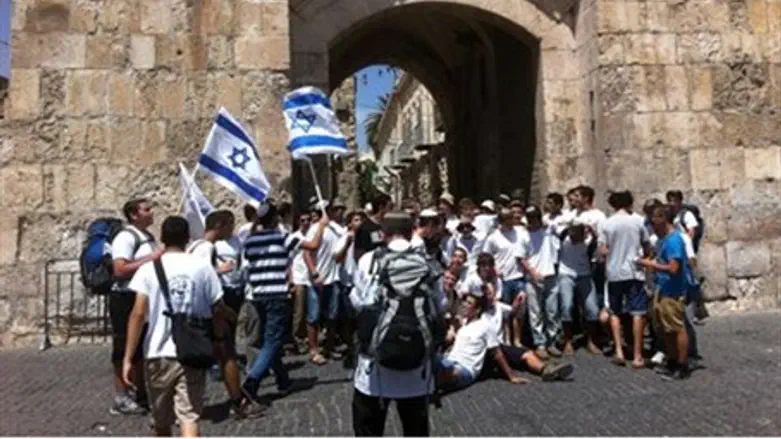 Hispin Yeshiva students at the Lions' Gate
Uri Cohen
Jewish students of the Hispin High School Yeshiva in the Golan Heights visited Jerusalem for Jerusalem Day on Wednesday. While there, they report that local Arabs threw stones and tear gas at them.
The students' visit to Jerusalem started Wednesday morning in the Old City, where their celebrations of the 47th anniversary of the liberation of the capital were marred by local Arabs who attacked them.
According to the group, roughly 90 students bearing flags of the state of Israel and of their yeshiva arrived while singing and dancing to the "Small Kotel" in the Muslim Quarter, located adjacent to the Temple Mount.
As they passed through the area, they report, stones were thrown at them, and tear gas was sprayed at them for no apparent reason. The group continued its visit as planned, undeterred by the violence.
Detailing the incident, they report passing by a metal gate in the stone walls where they heard shouts, but they continued walking and singing "without any provocation from our side."
Sudden one of the local Arabs on the other side of the gate sprayed tear gas at the students, who felt an immediate burning in their throats and started coughing and choking while trying to distance themselves from the gas.
The guide said that the gas was sprayed from under the iron gate. He added that Border Police forces arrived at the scene, but were unable to apprehend the attackers due to the locked gate blocking their pursuit.
"The Border Police need to be on the other side of the gate and to defend from there, not this side," said the guide.
The guide concluded with a warning "it's a feeling of Jewish pride to be here in Jerusalem on Jerusalem Day, and to express Israeli sovereignty. Every place where we aren't present will become theirs."
It remains unclear whether the same incident is in question, but AFP reports that a local Arab was arrested "near an entrance to the Old City for spraying Jews with tear gas."
Arab rioters on the Temple Mount closed the site to Jewish visitors by throwing stones and fireworks at police on the holy site, leaving at least one officer lightly wounded. Nevertheless, some Jews were able to make it to the holiest site in Judaism.