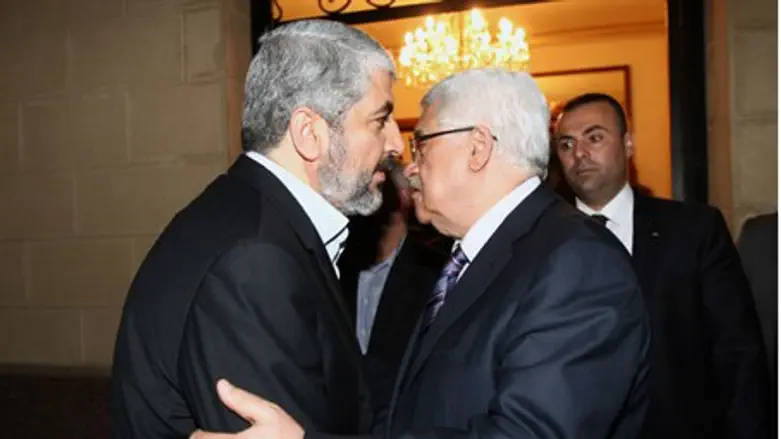 Hamas's Mashaal with Mahmoud Abbas
Flash 90
The Palestinian Authority unity government, comprised of Fatah and Hamas, is expected to be announced later this week, a negotiator told The Associated Press (AP) on Monday.
Azzam al-Ahmed, a Fatah negotiator, traveled to Gaza on Monday for what he said would be a final round of talks with Hamas leaders about the Cabinet lineup. A temporary government of technocrats is to prepare for general elections in 2015.
"The declaration of the new government is Thursday," al-Ahmed was quoted by AP as having told reporters.
He confirmed that Rami Hamdallah, who has served as prime minister of the Palestinian Authority's government, would stay on to head the unity government.
Abbas had previously agreed to take on the job of prime minister in addition to his position as president, but now seems reluctant to assume additional responsibility.
Ehab Ghussein, a Hamas government spokesman, said he expected the Cabinet lineup to be announced in the coming days, but did not give a date.
The Hamas-Fatah unity agreement, announced in April, aims to bring an end to the longstanding feud between Fatah and Hamas, which began in 2007 when Hamas took control of Gaza in a bloody coup and started cracking down on Fatah officials living in the territory.
It's not clear if the U.S. and Europe, which shun Hamas as a terror group, would deal with a unity government.
The European Union has indicated it would do so if Abbas sets the tone, something he has said he would do.
A senior U.S. administration official said last month that the United States would have to reconsider its assistance to PA if Fatah and Hamas form a government together, but a Hamas official was quoted as having said on Sunday that the U.S. is becoming more open to the idea of a Hamas-led PA government.
Hamas continues to be adamant over its full control of a "unity" government, expressing over and over again that it would remain in control of both Gaza and the PA after elections and insisting that its Prime Minister Ismail Haniyeh would rule the government.
More recently, Hamas announced that any unity government would be unequivocally subject to their approval before being established.