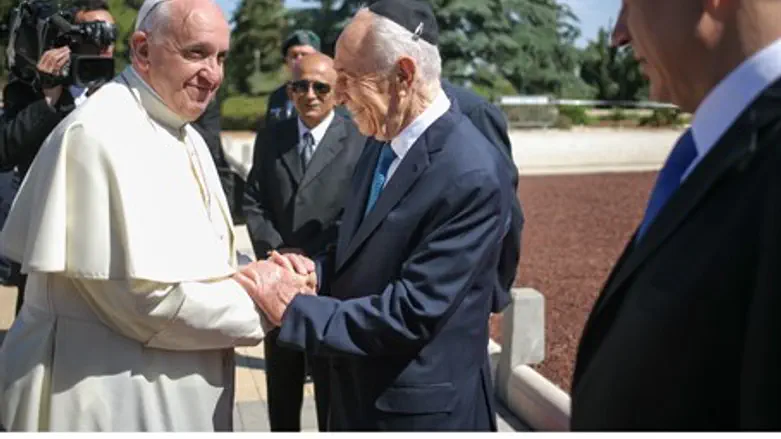 Peres greets Pope Francis as Netanyahu looks
Flash 90
Israeli President Shimon Peres on Monday accepted an invitation from Pope Francis to go to the Vatican for a joint prayer for peace with Palestinian Authority leader Mahmoud Abbas.
Peres had greeted the Pope warmly as his tour of the Holy Land drew to a close with a visit to the President's residence in Jerusalem.
"Your coming to the Holy Land is an important opportunity for joint prayer," Peres said. "We will be happy to raise up prayer like this at our home, or at yours, in accordance with your generous invitation, according to your choice," he added, turning to look directly at Francis as he spoke.
Despite expectations Francis would steer clear of the thorny politics of the intractable Israeli-Palestinian conflict, the Argentine pontiff had on Sunday extended a personal invitation to the two men at the end of a mass in Bethlehem.
"I wish to invite you, president Mahmoud Abbas, together with President Shimon Peres, to join me in heartfelt prayer to God for the gift of peace," Francis announced.
"I offer my home in the Vatican as a place for this encounter of prayer," he said. "Building peace is difficult, but living without peace is a constant torment."
Abbas on Sunday accepted the pope's invitation saying he would go to the Vatican on June 6, a senior PA official said, but although Peres' office welcomed the invite, they stopped short of saying whether or not he would accept.
The 90-year-old Israeli president, who is due to retire at the end of July, is known for his close friendship with Abbas and is one of the key architects of the so-called "two-state solution" which calls for the establishment of a Palestinian Arab state in Judea, Samaria and Gaza.
He has faced criticism during his term as president for openly clashing with the government over policies towards the PA. Israeli presidents are appointed, not elected, as opposed to the government.
His attendance together with Abbas will be viewed with discomfort by many in Jerusalem, as the government's official policy is not to engage with Abbas while he pursues a unity pact with Hamas, an Islamist group dedicated to Israel's destruction.
Earlier this month, he claimed on Israeli television that Prime Minister Binyamin Netanyahu had blocked a peace agreement he had secretly negotiated in Jordan with Abbas in 2011. The Prime Minister denied the claims.