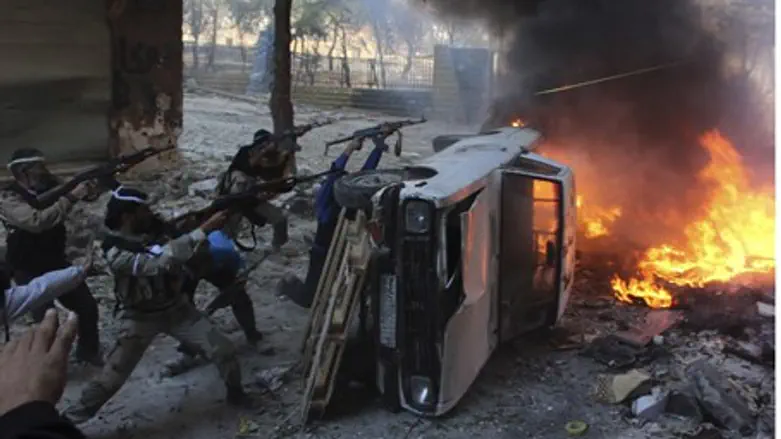 Syrian rebels take positions in Aleppo
Reuters
Islamist rebels in Syria carried out four separate suicide bombing attacks against Syrian army positions, killing "dozens" and wounding many more, according to the Syrian Observatory for Human Rights.
The Nusra Front - which is Al Qaeda's official branch in Syria - carried out the attacks as part of an offensive aimed at cutting off the northwestern province of Idlib from the coast, ahead of upcoming presidential elections. The Mediteranian coast is a stronghold of President Bashar al-Assad's minority Allawite sect, whereas Idlib, like most of Syria, is majority Sunni Muslim.
The elections, branded a "farce" by western nations, will only take place in regime-held areas.
The London-based Observatory could not give specific figures but said that "four Al-Nusra Front fighters carried out suicide attacks this morning, driving vehicles packed with explosives into four regime forces' checkpoints in the Jabal al-Arbaeen area near Ariha city."
It said the bombings sparked fierce gun battles between pro-regime and rebel forces in the area, during which a Syrian Air Force strike killed two rebels and wounded 15 more.
The Assad regime controls the province's main cities of Idlib and Ariha, but rebels have control of most of the surrounding countryside.
More than 160,000 people have been killed in Syria's civil war, which is raging into its fourth year with no end in sight.