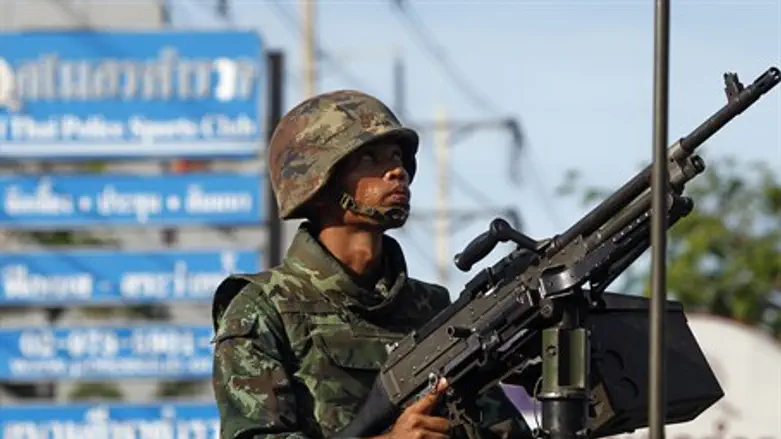 Thai soldier in Bangkok
Reuters
What started as a declaration of martial law on Monday night developed on Thursday into a full-fledged military coup in Thailand. This makes the twelfth successful coup in the south-east Asian country since the end of the absolute monarchy in 1932.
In a statement on national TV, army chief Gen. Prayuth Chan-ocha announced the coup, pledging political reforms and saying the cabinet government would report to the military, reports BBC.
Chan-ocha added warnings about what the coup would look like for citizens: a curfew throughout the nation would run from 10 p.m. until 5 a.m., and "political gatherings" of more than five would be banned. The army chief warned "anyone who violates the ban will be subject to a one-year jail term, 10,000 baht ($307) fine, or both."
Thai army soldiers fired in the air to disperse a protest camp in Bangkok supporting dismissed Prime Minister Yingluck Shinawatra. As of now no reports of violence have been received.
The army crackdown further included a suspension of all normal programming by Thai broadcast media. It also included the detention of key political leaders, reports the Washington Post.
In response to the steps, the UN human rights office has urged the Thai military "to take all necessary measures to ensure fundamental human rights are respected."
Likewise US Secretary of State John Kerry said "there is no justification for this military coup," warning of "negative implications for the US-Thai relationship, especially for our relationship with the Thai military."
Referring to reports that senior political leaders had been detained and media outlets closed, Kerry said "I urge the restoration of civilian government immediately, a return to democracy, and respect for human rights and fundamental freedoms, such as press freedoms."
Reasons for the coup
The coup follows months of instability and mass protests starting late last year, as tensions boiled over between opponents and supporters of allegedly corrupt and exiled former Prime Minister Thaksin Shinawatra, over his sister Yingluck, then-prime minister. She was dismissed from by the Constitutional Court two weeks ago for "abusing" her post.
The division over Shinawatra is characterized by a division between rural support for the exiled leader and his sister, and urban opposition to them over alleged widespread corruption.
In the TV broadcast, Chan-ocha said he had decided on the coup because "of the violence in Bangkok and many parts of the country that resulted in loss of innocent lives and property, (which) was likely to escalate." 
"In order to run the country smoothly, (the military has) suspended the constitution of 2007, except for the chapter on the monarchy," added a later military statement on TV.
The statement clarified that Chan-ocha would be leading a military body running the country, entitled the National Peace and Order Maintaining Council, even as the upper house of parliament and courts continue to operate.
Chan-ocha in his address asked "the public not to panic and to carry on their lives normally."
That message was likewise transmitted by Rabbi Nehemiah Wilhelm, the Chabad emissary to Bangkok, who this week said Jews were not in danger by the goings-on in Thailand.
"There's no concern, it's not a new situation; a few years ago there was a revolution, now it's just a military regime," said the rabbi.
The Israeli Foreign Ministry has raised Thailand's terror threat level to "very high concrete threat" after the arrest of two Hezbollah-linked terrorists who were targeting Israelis; reportedly there are at least nine other Hezbollah terrorists at large in Thailand, which police have been searching for.