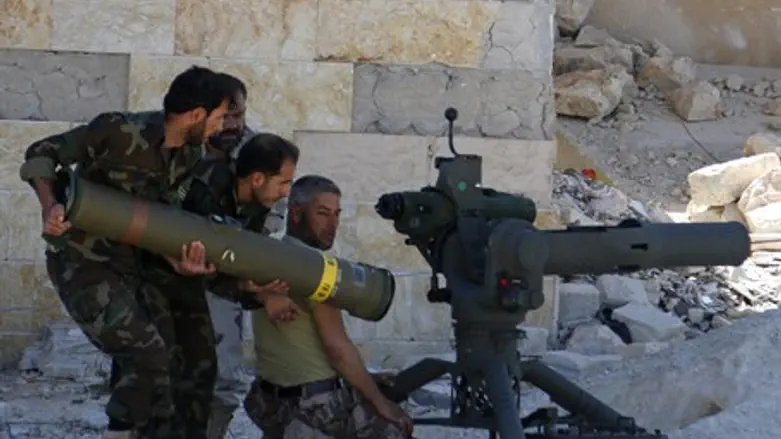 Syrian rebels prepare to launch an anti-tank
Reuters
A leading Syrian opposition figure has claimed western states could send desperately-needed arms to rebel groups in Syria "within weeks".
The comments were made by Syrian National Coalition (SNC) president Ahmed Al-Jarba in an interview with the pan-Arab Asharq al-Awsat, and came on the heels of whirlwind of meetings in the US, UK and France, in which Al-Jarba appealed for greater support for the rebel Free Syrian Army. The international tour followed a meeting of the Core Group of the Friends of Syria in London earlier this month, in which opposition leaders appealed for more material support in their campaign to overthrow the regime of Bashar al-Assad.
Syria's fractured rebel movement has faced a series of setback in the past few months, with regime forces capitalizing on infighting to claw back territory from opposition factions.
The fall of the city of Homs - formerly the epicenter of the revolt against Assad - earlier this month, was one of the most serious blows yet to the rebel movement. 
More "moderate" rebel brigades aligned with the SNC, who tend to operate under the banner of the Free Syrian Army (FSA), have been increasingly eclipsed by Islamist factions such as the Islamic Front and other even more radical elements, a development which has alarmed western states and fed skepticism over support for the rebels.
But SNC and FSA leaders have said western states are partially to blame for failing to back verbal support with meaningful military aid.
All that might be about to change, however, according to Al-Jarba
"We knocked on the door of the US administration, the US Congress and the American media" to ask for weapons, he said. "Compared to our direct contact with the Americans last year, these [latest] meetings were positive... and I can at this point tell you that we have certainly made advances".
"I told them that we do not want your children to come to Syria [to fight] or for your air force to carry out any strikes. What we want is arms to defend ourselves from [the Assad regime's] air raids and barrel bombs, while we at the same time support a political solution," he said, addressing fears that Islamists from western countries were being radicalized in Syria. 
Small-scale weapons aid and military training has already been supplied to select rebel groups, along with "non-lethal" aid such as medical supplies and other equipment, but both Congressional caution and a hesitant White House have prevented anything further until now.
But with the Iranian-backed Assad regime making steady progress, western states are reportedly warming to the idea of upping the level of aid in order to force him to the negotiating table. Last month the first clear evidence of rebels using advanced US-made anti-tank weapons emerged. It was unclear whether they were supplied directly by Washington or via Saudi Arabia, which backs the rebels - but either way some analysts have seen it as a hint that the US is preparing to up the ante.
It's a sentiment Al-Jarba said he tapped into.
"We can only reach such a resolution by convincing Bashar Al-Assad that there is no military solution to the conflict, and that is why you must provide us with substantial military assistance."
"I have truly sensed that there is real seriousness that this will take place in the coming days, which will be translated... on the ground in the coming weeks."
He also claimed US officials had been convinced by his guarantees that weapons would not fall into the hands of extremists.
"We reject terrorism and are fighting against it on the ground... So it would be impossible that these arms would end up in the hands of those we are fighting," he asserted.
That statement may be somewhat misleading, however; although mainstream rebel groups have largely turned against Al Qaeda breakaway ISIS, many others - including FSA groups - openly admit to cooperating and even sharing weapons with Al Qaeda's official Syrian affiliate, the Nusra Front.
Meanwhile, pro-government forces continue to make gains in the north of the country, reportedly breaking a year-long siege of Aleppo prison.