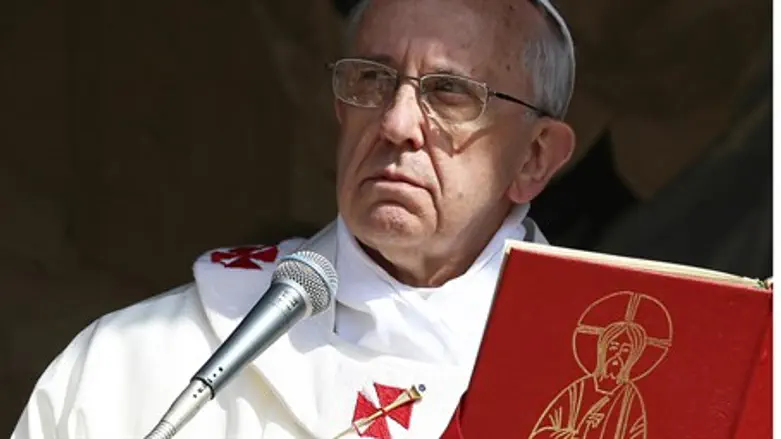 Pope Francis
Reuters
Pope Francis on Wednesday said his upcoming trip to the Middle East would be entirely devotional, aimed at praying for peace in the region and improving relations with other branches of Christianity.
"It will be a purely religious trip," the Argentine pope told some 50,000 pilgrims at a general audience in St Peter's Square ahead of three-day trip to Israel and Jordan, starting on Saturday.
Francis said the main reasons for the trip - billed a "pilgrimage of prayer" by the Vatican - were to meet with the Orthodox Patriarch of Constantinople Bartholomew I and "to pray for peace in that land, which has suffered so much".
The visit kicks off on Saturday when Francis flies to Amman and meets Syrian refugees. He will then travel on to Bethlehem, Tel Aviv and Jerusalem, wrapping up the visit on Monday with a mass in the place where Christians believe Jesus had the last supper with his disciples.
Francis will meet with all the main Israeli, Jordanian and Palestinian Authority leaders, but only briefly.
His message comes after PA officials and some Arab Christian leaders claimed the trip was essentially a solidarity mission to "recognize Palestine" and "oppose the occupation."
"He is taking a helicopter directly from Jordan to Palestine - to Bethlehem. It's a kind of sign of recognizing Palestine," Father Jamal Khader of the Latin patriarchate in Jerusalem told AFP.
But those claims appear to have been premature, after it was revealed today that Francis would visit Zionist pioneer Theodore Herzl's tomb, in a symbolic gesture apologizing for the Vatican's initial opposition to Jewish self-determination.
There has also been opposition from Jewish groups over perceived Vatican designs on holy sites in Jerusalem.
Argentine Rabbi Abraham Skorka, an old friend of Francis who will be travelling with him, said the pontiff would try to avoid political pitfalls in the sensitive region by dividing his visits equally between Jewish Israeli sites and Muslim or Christian landmarks in PA-controlled territory.
"He will try to be balanced," Skorka told journalists in Jerusalem. "He's going to make meaningful contact and interaction with the Palestinian people. But when he comes to Israel, I'm not sure whether the previous Popes went to Mount Herzl to lay flowers there."  
Pope Francis is to pray at the Western Wall, the site of the first and second Jewish temples, and to visit Israel's national cemetery on Mount Herzl before going on to the Yad Vashem Holocaust memorial.  
Skorka condemned opposition by some Jews over the Pope's visit.  
"I'm totally against them (demonstrations against the visit). This is a visit by someone who is seeking a road to peace and dialogue and he should be received with open arms," Skorka said. "We cannot remain and live in a vicious circle of hate."
Hundreds gathered last week near the reputed scene of Jesus's last supper in Jerusalem, demanding that Israel keep sovereignty over the site where Pope Francis will celebrate mass.
Jews revere the site as the tomb of King David, which is on the ground floor of the same building. It is currently the subject of negotiations between Israel and the Vatican, which hopes to take over the site, but no official agreement has been announced.