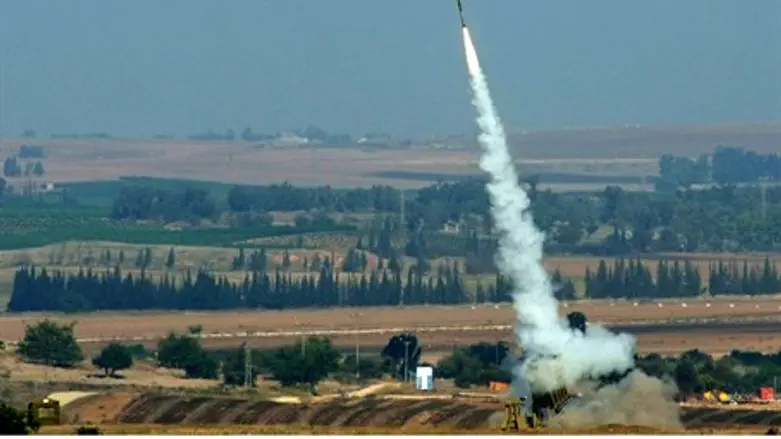 Israel's Iron Dome in action (illustrative)
Flash 90
The IDF and the US military cooperated Sunday in a large drill simulating a multi-front missile attack on Israel by Gaza, Lebanon, Syria and Iran, Channel 2 reported Sunday.
During the exercise, about 1,000 American soldiers stationed in Israel joined more than 4,000 Israelis, to practice the protection of the State of Israel in a series of scenarios that simulate the firing of rockets and missiles from several arenas simultaneously: Gaza , Lebanon, Syria and Iran.
The exercise reportedly tested various scenarios, including one in which the U.S. sent Patriot missiles to Israel and some Aegis-type ships, which carry rockets and other defense systems against ballistic missiles, meant to assist Israel in protecting its population and territory.
The drill also rehearsed particularly complex scenarios in which missiles and rockets are fired in large quantities from many different arenas. Israel is rehearsing the use of its Arrow missiles, as well as Patriots, the Iron Dome and Magic Wand systems – the last of which is still in development. At the same time as the exercise in Israel, hundreds of American troops are practicing a similar exercise in Jordan
The exercise began shortly after the arrival of U.S. Secretary of Defense Chuck Hagel in Israel.