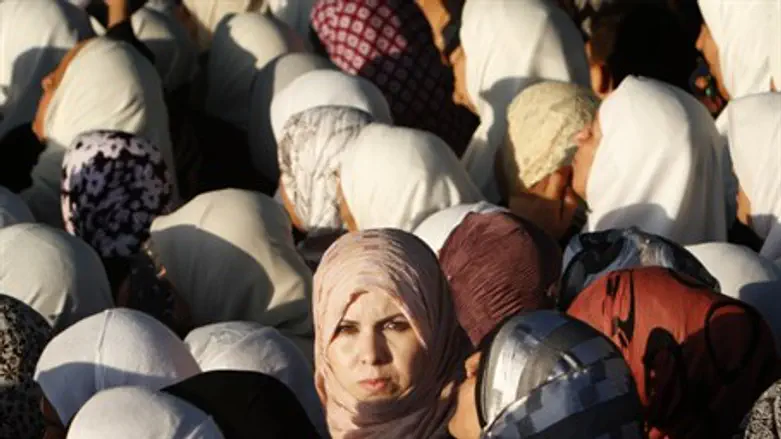 Illustration: Muslim women
Flash 90
The UN organization for women on Friday decried the rising rates of violence against women in the Palestinian Authority, after a woman was slain this week, raising the year's total so far to 14.
UN Women in Palestine said in a statement quoted by the Ma'an news agency that the organization is "seriously concerned" about the killing, highlighting that the "worrying increase in the rate of femicide, from 13 in 2012 to 28 in 2013, demonstrates a widespread sense of impunity in killing women."
Femicide usually refers to violence perpetrated by partners or relatives of a woman, encompassing primarily lethal forms of domestic violence.
Much of the femicide in the PA, and elsewhere in the Arab world, is in the form of "honor killing", when a woman is murdered by family members who believe she has brought shame or dishonor upon her family.
"The Palestinian Government has demonstrated a political will to end violence against women through the adoption of a zero-tolerance policy on violence against women," the statement said, but it urged that this "political will must be translated into urgent concrete action."
The statement noted that the PA has endorsed the National Strategy to Combat Violence against Women 2011-2019 and has ratified the Convention on the Elimination of All Forms of Discrimination against Women, but it urged the government to implement the existing Serious Case Review mechanism that is currently coordinated by the Ministry of Women's Affairs and ensure a thorough investigation in order to protect women and end "impunity for the perpetrators of violence."
According to statistics released in 2012 by the Palestinian Independent Commission for Human Rights, honor killings took the lives of 13 women in 2011 and 12 in the first seven months of 2012.
Dr. Yunis Al-Astal, a member of the Council of Palestinian Clerics and a Hamas MP, recently criticized the punishment of honor killings in Palestinian Arab society.
In his statement, Astal argued that honor killings is a more serious crime than the reason behind the honor killings itself, as punishment for premarital sex - which is the most common reason for the murders, according to Astal - is only one hundred lashes, not execution.
Astal also clarified that while adultery is punishable by stoning according to Sharia Law, the sentence needs to be handed down by the court, not by family members. He slammed the fact that, often, honor killings are carried out in secret - with only close family members knowing her fate. 
(Arutz Sheva's North American Desk is keeping you updated until the start of Shabbat in New York. The time posted automatically on all Arutz Sheva articles, however, is Israeli time.)