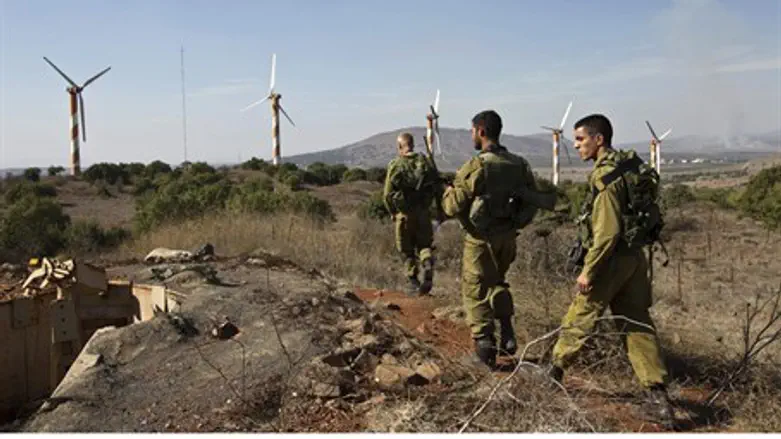 IDF patrol in Golan Heights
Reuters
US citizens have been warned to stay away from the Golan Heights, the Embassy in Tel Aviv announced, due to fears of spillover from neighboring Syria. 
"As always when traveling within the Golan Heights, caution should be exercised due to unmarked or poorly marked minefields from previous conflicts," the statement reads. "Travelers are reminded to walk only on established roads or trails and to pay close attention to warning signs and notices in the area."
"US Government personnel are now prohibited from all official and personal travel east of Route 98 until further notice," it added. 
The IDF closed the Quneitra Israel-Syria crossing on Sunday, citing security concerns over the ongoing Civil War there. 
Speaking to AFP, security sources said they feared fighting between rebels and Syrian army forces would affect the area.
Rebels in southern Syria set up earlier this year the so-called Southern Front, including some 30,000 fighters from more than 55 mainstream rebel groups, and have claimed successes, notably in Quneitra.
The Quneitra crossing was recaptured by Syrian army forces last June after briefly falling into opposition hands.
More recently, the Syrian border has been less than quiet. In mid March, Syria claimed an IAF airstrike killed one soldier and injured seven. Assad's army slammed the strike, threatening that "all options are open."
The IAF airstrike targeted artillery batteries and a Syrian army training camp which had aided in the detonation of an explosive charge on the Israeli-Syrian border, which injured three IDF soldiers.