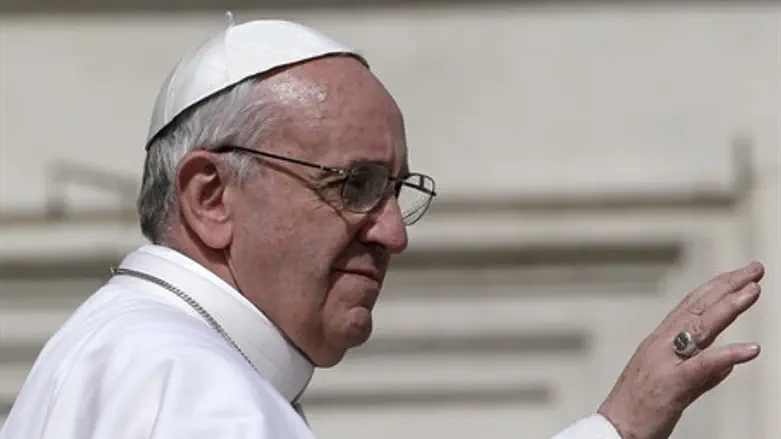 Pope Francis
Reuters
Pope Francis apparently feels very at ease over his visit to Palestinian Authority (PA) controlled areas during his May 24-26 visit to Israel. The Vatican reported on Thursday that he will ride in open-top non-bulletproof cars in Bethlehem.
The pope's predecessor, Benedict XVI, rode in a bulletproof "popemobile," an armored car introduced after the attempted assassination of John Paul II in 1981. The current pope has in the past shown his preference for non-bulletproof cars.
"It's a program that he (the pope) himself has approved," Vatican spokesman Federico Lombardi told AFP.
Some may doubt Francis's decision, given the animosity towards Christians in Bethlehem which was on display last week, as Christian Arab residents of a village near the city were savagely attacked by local Muslims with stones as they celebrated a Christian holiday at Saint George's Monastery. Indeed, most Christians have reportedly been driven out of the city by Muslims.
A possible indicator to the pope's feeling of ease may be found in reports from February by Rabbi Sergio Bergman, a member of the Argentinian parliament and close friend of Pope Francis, who said that the pope intends to define himself as the "Che Guevera of the Palestinians" and support their "struggle and rights" during his visit.
PA Chairman Mahmoud Abbas last December called on the pope to use his visit as a propaganda move for the PA against Israel. That same month the pope announced he would not host "mass" prayer services in Jerusalem during his trip, but instead in PA-controlled Bethlehem as a show of support. 
Pope Francis is scheduled to fly by helicopter from the Jordanian capital of Amman to Bethlehem, and from there to drive - in his open-top car - to Tel Aviv, and then on to Jerusalem, where he plans to pray at the Western Wall and leave a message in the Wall.
Not all officials in Jerusalem will greet the pope, however; Councilman Aryeh King announced he would not attend an official welcoming of the pope unless he "will bring in his suitcase the treasures of the Jewish people that were stolen by his predecessors, treasures that today are located in the Vatican's basement."
According to Lombardi, Francis will make 20 stops in Israel and Jordan, and make 14 speeches.