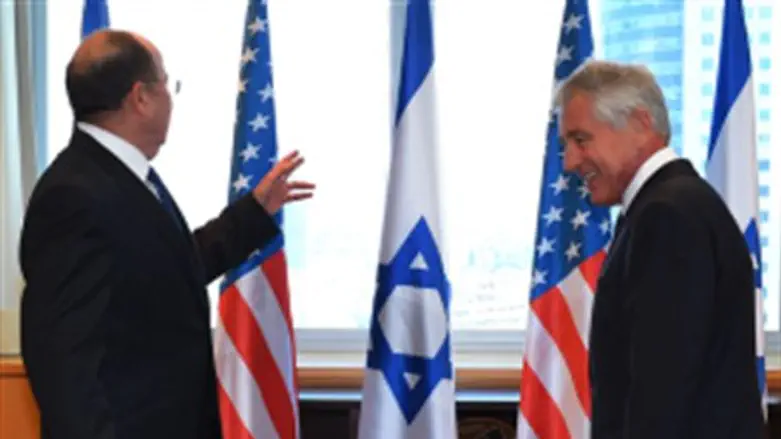 Yaalon and Hagel
Flash 90
US Secretary of Defense, Chuck Hagel, who is visiting Israel, dismissed on Thursday reports that Israel had been spying on his country.
In a joint news conference with his Israeli counterpart, Moshe Yaalon, Hagel was asked if he was aware of the recent reports regarding Israeli espionage on the US.
"I have heard about the report and am unaware of any facts that would support it," said Hagel.
The reports about Israeli esponage both appeared in recent issues of Newsweek.
The first report said that in the course of classified briefings in Congress on the legislation for lowering visa restrictions, testimony was heard alleging that Jerusalem's "efforts to steal U.S. secrets under the cover of trade missions and joint defense technology contracts" have "crossed red lines."
"Israel's espionage activities in America are unrivaled and unseemly, counterspies have told members of the House Judiciary and Foreign Affairs committees," the magazine reported, "going far beyond activities by other close allies, such as Germany, France, the U.K. and Japan." It quoted a former congressional staffers who said that "No other country close to the United States continues to cross the line on espionage like the Israelis do."
Israeli Foreign Minister Avigdor Liberman responded by saying that the charges are "made up out of whole cloth" and hinted that they may be part of an effort to torpedo legislation that would lower visa restrictions on Israeli citizens entering the US. "We're talking about lies and falsehood, simply libel which is baseless and unfounded," Liberman stressed. "I am sorry that there are apparently anonymous elements in the United States who are simply trying to maliciously spread false accusations."
Newsweek also cited a senior former U.S. intelligence operative who claimed that a Secret Service agent who was assigned to guard then-Vice President Al Gore saw an Israeli spy coming out of an air vent at Gore's Jerusalem hotel room.
Former Israeli Military Intelligence head, Major General (ret.) Amos Yadlin, said Saturday evening that the allegation is "delusional."