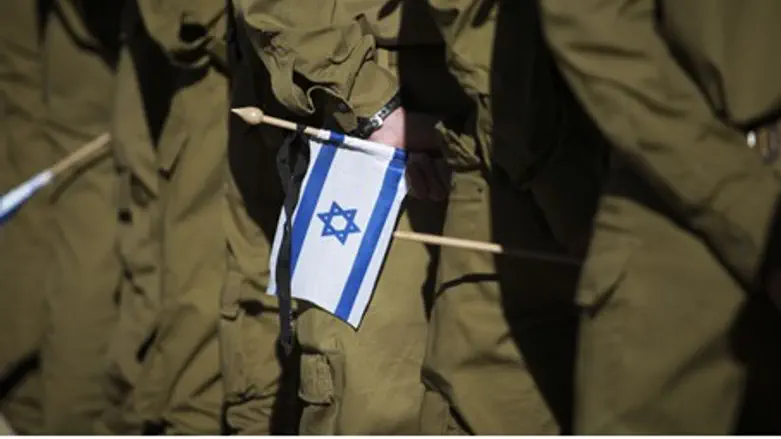 Soldiers with flag (file)
Flash 90
Following the eviction and demolition of homes in the town of Ma'ale Rehavam in Judea's Gush Etzion region on Wednesday, IDF soldiers have started a Facebook protest pledging not to kick Jews out of their houses.
IDF soldiers from various units, including Givati, the Border Police and Air Force, photographed themselves holding signs saying they would refuse to expel Jews, reported the Hebrew-language site 0404 News. The faces of the soldiers are not shown in the pictures.
A security source told Arutz Sheva that Col. Yehuda Fuchs, commander of the Nahal Brigade, has ordered an in-depth investigation in response to the protest. He stated that the brigade's soldiers were told that they wouldn't take part in the expulsion, but would only secure the main roads.
The new protest follows the popular protest by soldiers in the case of David Adamov, dubbed "David the Nahlawi (Nahal soldier)," who was arrested the same day he was videotaped by Arab youths in Hevron cocking his weapon in response to a threatening situation. Thousands of soldiers photographed themselves with signs of support for David.
The viral Facebook campaign supporting David has garnered over 130,000 "likes," and sparked strong reactions from MKs, a nod from an army official, and several demonstrations. Recent video footage of soldiers confronting Arab provocateurs appears to show they have been "empowered" by the popular protest.
The IDF Spokesperson unit responded to Thursday's protest, saying "the use of social networks in this case as a tool for protest is unacceptable, and harms the core values of the IDF as an army functioning in a democratic country."
The statement added, "the incident is a clear example of the cynical exploitation and political usage made possible through the immunity of hiding one's face and the freedom of expression common on social networks, it is not a replacement for appropriate authorized dialogue needed in such cases."
"In expulsion missions taking place at these times throughout Judea and Samaria, IDF soldiers man 'rings' that secure the perimeter [around the place of demolition]; until now there aren't known cases of refusing or opposing conducting the mission," the statement concluded.
Soldiers have been arrested and rabbis indicted in the past for "inciting" IDF soldiers not to expel Jews from their homes.
Residents of the Givat Assaf community near Beit El in central Samaria on Thursday entered into an agreement with security forces to prevent the forced demolishing of homes at the site. Residents have begun dismantling structures in areas where the High Court ruled that claims by residents who say they purchased the land are unclear.
The community, like Ma'ale Rehavam, was ordered to be demolished by next Sunday. Ramat Gilad, located west of Shechem (Nablus) in Samaria, is also slated for destruction by Sunday.