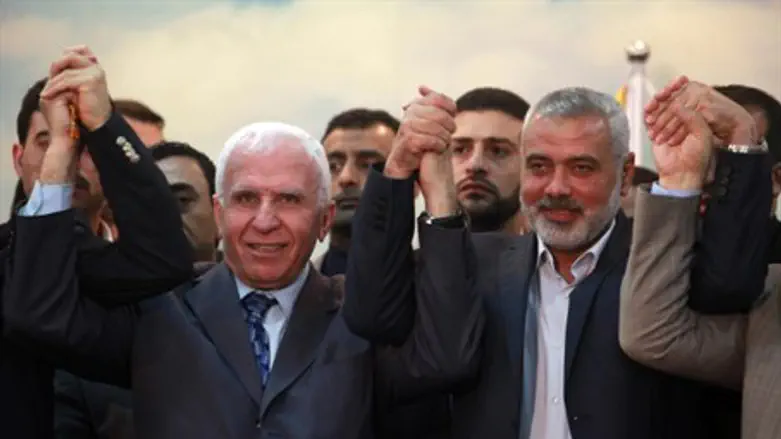 Azzam Al-Ahmed and Hamas's Ismail Haniyeh
Flash 90
A senior official of Palestinian Authority (PA) Chairman Mahmoud Abbas's Fatah faction arrived in Gaza on Tuesday, to discuss the unity government with terrorist group Hamas that is to be established by the end of May.
Fatah signed a reconciliation agreement in late April with Hamas, the group that violently removed it from Gaza in 2007, in a move that torpedoed peace talks between the PA and Israel.
"I will meet over the next two days with Hamas leaders to discuss forming a government," senior Fatah official Azzam al-Ahmed told AFP after he arrived in Gaza through the Erez border crossing.
The PA and Hamas are to form an "independent government" of technocrats according to the deal. However, the chances of true reconciliation between the rival groups remains in doubt.
A senior PA official on Sunday said that Abbas told US National Security Adviser Susan Rice last week Hamas will not be part of the unity government, adding that the terror group does not need to recognize Israel or renounce terror. Abbas has stated that the unity government will be under his control.
Hamas for its part continues to be adamant over its control of a "unity" government, expressing over and over again that it would remain in control of both Gaza and the PA-held areas after elections, and insisting that Ismail Haniyeh would rule the government. 
Hamas representatives have already claimed that the PA's police forces will be integrated into Hamas's police in Gaza, less than a week after co-founder Mahmoud Al-Zahar angrily denied allowing Hamas to be integrated into the PA side of law enforcement. 
"Nobody will touch the security sections in Gaza. No one will be able to touch one person from the military group. Nobody asked for that," Zahar declared to Reuters. He also claimed that Abbas is "lying" about being in charge of a unity government and charged him with vying for the continuation of US aid.