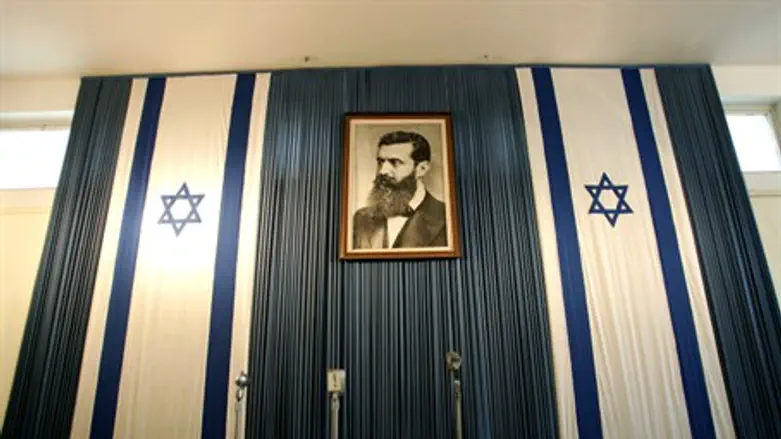 Independence Hall, site of Declaration of Ind
Flash 90
Steven Spielberg and Jewish organizations around the world have endeavored to record as much testimony from Holocaust survivors as possible, mindful that the day is coming when no one will be left to tell their stories.
But what about the story of the founding of the State of Israel?
Enter Eyewitness 1948, a short film series documenting the birth of the Jewish national homeland. Launched by Jerusalem-based non-profit group Toldot Yisrael, the film series provides a firsthand look at the heroism and complex moral dilemmas that faced young freedom fighters at they struggled to establish the first Jewish state in 1948.
Arutz Sheva spoke to Aryeh HaLivni, Director and Founder of Toldot Yisrael, about this groundbreaking project to preserve Israel's earliest memories.
"At this point, we've already recorded 700 people," HaLivni stated. "We have about 3,000 hours of footage, and we're trying to get as many people as we still can in the time that we have."
HaLivni noted that while Holocaust survivors' stories have been reasonably well-documented, there have been few - if any - projects documenting Israel's independence.
"I often ask people - especially Diaspora Jews - whether they have ever had the opportunity to hear a Holocaust survivor tell their own personal story. And most times they have [. . .] the Jewish community as a whole has done a great job of that," he explained. "But then if you ever ask them if they've heard someone involved in the founding of the State of Israel tell their own personal story, they haven't."
"I grew up in Bnei Akiva, I was involved, and I never heard anyone tell their own personal story about the founding of the State of Israel," he added. "How can that be? This is important for Jewish identity, this is important for Jewish understanding."
The project not only appeals to Diaspora Jewry - but to Israelis as well.
"If you ask the younger generation of Israelis [if they've ever heard a firsthand account of Israeli independence - ed.], they haven't heard it either."
The project could also be an important step in Israel advocacy and education. "When people start to question facts about the State of Israel, and they're looking not at 1967 as the root of the conflict but at 1948 as the core - we want to make sure that the stories are accounted for and told by the people who participated," HaLivni noted.