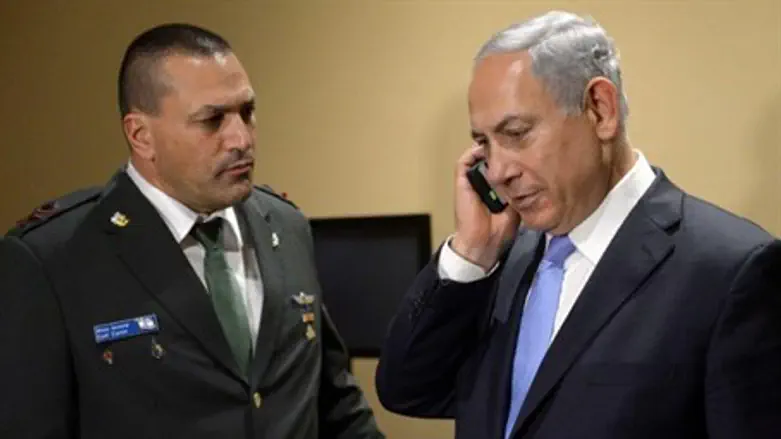 Binyamin Netanyahu on the phone
Flash 90
Prime Minister Binyamin Netanyahu offered on Sunday to help Nigeria in trying to recover roughly 300 Christian schoolgirls, who were kidnapped by the Al Qaeda-linked terrorist group Boko Haram.
"Israel expresses its deep shock at the crime against the girls," Netanyahu reportedly said by phone to Nigerian President Goodluck Jonathan, while on an official visit to Japan.
"We are prepared to help in locating the girls and to fight the cruel terror which has struck you," pledged Netanyahu. The prime minister's promises to help join those made previously by US President Barack Obama.
The Nigerian president accepted the offer, according to a statement by his office to AFP, which read: "President Jonathan welcomed the offer by Mr Netanyahu to send a team of Israeli counter-terrorism experts to assist in the ongoing search and rescue operations."
"The president briefed Mr Netanyahu on actions already being taken by Nigeria's armed forces and security agencies to locate and rescue the girls, saying that Nigeria would be pleased to have Israel's globally acknowledged anti-terrorism expertise deployed to support its ongoing operations," added the statement.
The schoolgirls were kidnapped from their dormitory on April 14 by the terror group, whose name "Boko Haram" roughly translates as "Western education is forbidden" in the Hausa language prominent in Nigeria's Muslim-majority north. The name reflects the group's antagonism towards any non-Muslim or Western influence in the country, including within its education system.
In a recently released video, Abubakar Shekau, the leader of the Boko Haram terrorist group, can be seen bragging "I abducted your girls. I will sell them in the Market by Allah!"
Boko Haram similarly attacked schoolchildren in February, when it shot and burned to death59 students in an attack on a boarding school.
In another similar attack in 2013, Boko Haram terrorists murdered 50 students as they slept in their dormitories. In July of that year 29 pupils and a teacher were burned alive in another school.