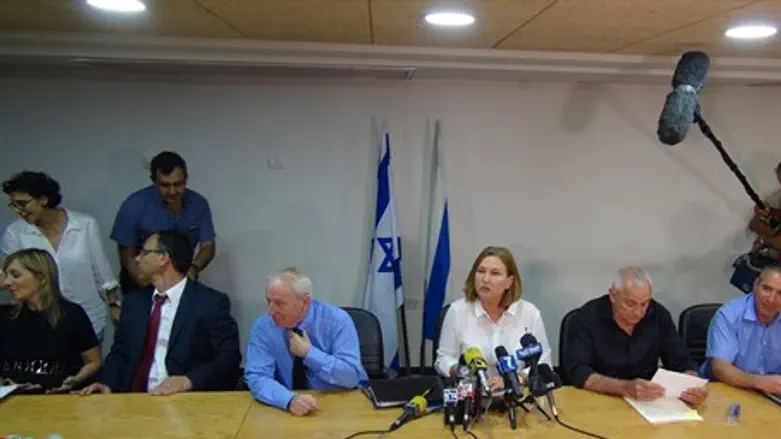 Hearing on 'price tag'
Hezki Ezra
A slew of public officials slammed "price tag" attacks Wednesday, targeting Yitzhar for special criticism. The panel included Justice Minister Tzipi Livni (HaTnua), Interior Security Minister Yitzhak Aharonovitch (Yisrael Beytenu), and Attorney General Yehuda Weinstein - as well as representatives from the prosecutor's office, the police and the IDF.
"This morning, when we are still reeling from Memorial Day, we woke up to headlines on a discussion about how to kill IDF soldiers," Livni said, "not from Hamas, but from Yitzhar."
Livni referred to her constant condemnation of "price tag" attacks against Arabs.
"All those who are silent about hate crimes against Arabs, discovered that this incitement is also carried out against the IDF," Livni stated. "This happens not only in the dark hills of Judea and Samaria, but everywhere in Israel."
"This discussion seems theoretical, but we have already learned that words can turn into action," she continued. "This is a violation of Israel as a democratic state. The best PR in the world cannot explain away why this happens in a supposedly peaceful country."
Aharonovitch slammed the phenomenon as "very dangerous for co-existence between Jews and Arabs" and said that the Shin Bet and police are focusing on "price tag" instead of actual terrorism against Jews.
"The police, the Shin Bet, law enforcement - we are doing all we can, until the very last detail," the minister said. "There is also progress in a number of affairs, the details of which I will not go into."  
Attorney General Yehuda Weinstein agreed.
"This phenomenon is difficult and serious," he said. "We have already said that [Yitzhar extremists] are an illegal organization [. . .] we will not hesitate to go back and appeal against offenders until they are brought to justice." 
Earlier Wednesday, a Yitzhar woman - who is eight months pregnant - was arrested for posting comments in a private forum saying she would willingly throw rocks at and kill an IDF soldier. 
The news - which was revealed to have been acted upon only because an Israeli news site threatened to publish the story, some two weeks after the fact - made headlines and sparked intense debate over Jewish communities in Judea and Samaria, the role of the public officials in the private sphere, and the freedom of speech. 
Outrage has also snowballed over what many perceive as unwarranted focus on the community of Yitzhar, which has seen a slew of arrests, public demolitions, and accusations of police brutality over the past month. 
Women, in particular, have been picked on by police. In April, a Yitzhar woman claimed that police treated her severely, confining her and depriving her of her rights for hours under harsh conditions, after she was arrested on trumped-up charges. Last week, another woman was arrested - allegedly at random - outside the small community, and an officer mocked her, saying "you will never see your kids again."