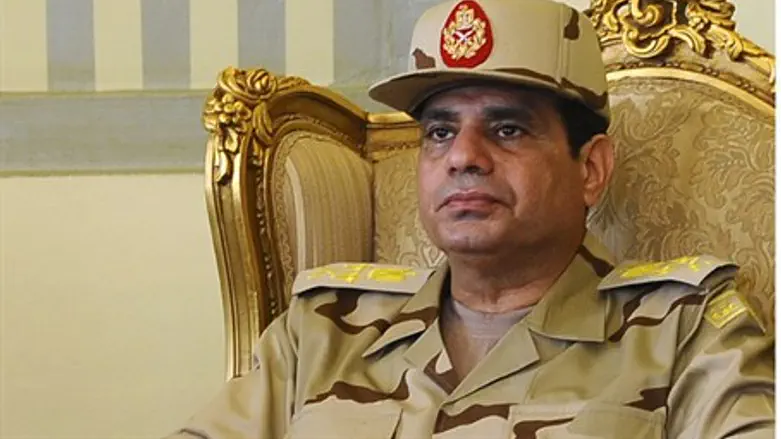 Abdel Fattah al-Sisi
Reuters
Egypt's ex-army chief and leading presidential candidate Abdel Fattah Al-Sisi has declared that the Muslim Brotherhood movement of ousted president Mohammed Morsi was "finished" in Egypt and would not return if he was elected, AFP reported.
Sisi's comments were made in the same interview in which he revealed that there had been two attempts to kill him. It was Sisi's first television interview since announcing his candidacy.
"I did not finish it, you Egyptians finished it," Sisi replied when asked if the Brotherhood was "finished."
Asked if he were saying it would not exist under his presidency, he responded, "Yes."
Sisi's remarks ruled out any chances of reconciliation with the blacklisted Islamist Muslim Brotherhood.
The movement, which swept all elections since the 2011 fall of former Hosni Mubarak, has already been blacklisted as a "terrorist organization" by the military-installed authorities.
Sisi said Egyptians had rejected the group's ideology and would not allow it to return.
The retired field marshal also said in what was the first part of the interview that if he was elected the army would "not have a role in ruling Egypt," adding that he was not a candidate of the army, according to AFP.
Sisi's only rival in the upcoming election is leftist leader Hamdeen Sabbahi, who has often raised concerns that Egypt was returning to the autocratic era witnessed under Mubarak.
These concerns grew after some leading symbols of the anti-Mubarak revolt were jailed by the interim authorities for organizing unlicensed protests.
The unrest has continued in Egypt long after Morsi's ouster, as hundreds of Islamists have been placed on trial and some have been sentenced en masse to death.
The mass trials have been condemned by the world. Responding last week to the sentencing of 683 Islamists, the White House said it was "deeply troubled" by the death sentences and called on Egyptian leaders "to take a stand against this illogical action and dangerous precedent, recognizing that the repression of peaceful dissent will fuel the instability and radicalization that Egypt says it wishes to prevent."
The European Union's foreign policy chief, Catherine Ashton, also denounced the mass death sentence, saying it breached international law and urged Cairo authorities to ensure defendants' rights to a fair and timely trial.
Egypt has rejected the criticism and termed it "unacceptable interference in the judiciary affairs."