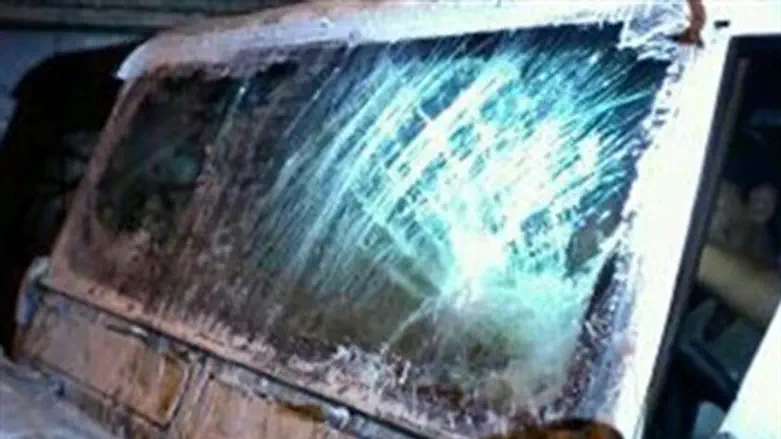 Jeep that was attacked in eastern Jerusalem
MK Motti Yogev's office
A security jeep that was driving through the eastern Jerusalem neighborhood of Silwan (Shiloach) was attacked on Monday evening by some 30 masked men, who hurled rocks and paint bottles at it.
The jeep sustained heavy damage but there were no physical injuries.
The incident is not the first in Silwan, which has become a hotbed of violence. Two bombs were found in the neighborhood last January, the same day a police officer was wounded in riots there, during the demolition of two illegal structures. Illegal building is considering something of an epidemic in the area.
In March, Jerusalem Councilman Moshe Lion had rocks thrown at him by Arab residents on while touring in the neighborhood.
Responding to Monday evening's incident, MK Motti Yogev (Jewish Home), a member of the Knesset's Foreign Affairs and Defense Committee, said, "The security situation in Jerusalem has deteriorated recently, and serious incidents are being carried out in eastern Jerusalem, as though there is a policy of containment and not a policy of preventing terrorism and terrorist activity."
"This is reflected by marches of Hamas through the city, violence and attacks by dozens of masked men with firebombs, paint bottles and rocks," added Yogev.
He noted that he intends to contact to Internal Security Minister Yitzhak Aharonovich and Internal Affairs Committee Chairwoman MK Miri Regev, demanding an urgent meeting of the Internal Affairs Committee to discuss the deteriorating security situation in eastern Jerusalem.
"The State of Israel was established to protect its citizens, and that's what is required from the Israeli police," stressed Yogev.
In fact, rock attacks have become a routine phenomenon in and around Jerusalem, as well as in Judea and Samaria, though most of these incidents are ignored by the mainstream media.
Arutz Sheva has reported on many occasions about such rock attacks, which can be lethal, as was the case in an attack in September of 2011 which targeted Asher Palmer and his infant son Yonatan. The two were killed when an Arab terrorist hurled large rocks at their car.
In another incident, three-year-old Adelle Biton was critically wounded in a rock terror attack in Samaria in March.