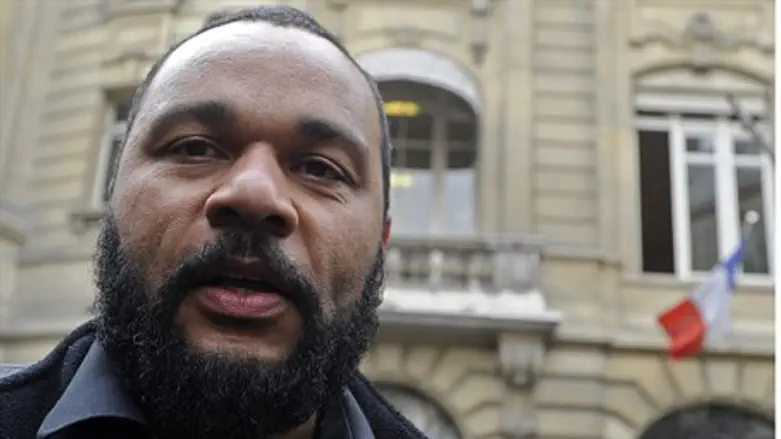 Dieudonne
Reuters
Belgian authorities have banned a planned gathering Sunday of far-right figures including the French anti-Semitic comic Dieudonne, after it was slammed by Jewish groups as an "anti-Semitic hatefest".  
Citing security risks, the mayor of the Brussels district of Anderlecht banned both the meeting and any street protests connected to it, the Belga news agency reported.
Organisers of the so-called "European Dissidents' Congress" - a Brussels bookshop and a group called "Debout les Belges!" (Belgians, Rise up!) - had kept its venue secret until the last moment to prevent it from being banned.  
It was to bring together a string of controversial far-right figures, including the comedian Dieudonne M'bala M'bala, who has faced repeated accusations of anti-Semitism, Holocaust denial and incitement to racial hatred.
The Belgian League against anti-Semitism, LBCA, Friday filed a complaint before the Brussels prosecutor against what it called "a day of hate, that would serve as a platform for the worst gathering of anti-Semite authors, theorists and propagandists that our country has seen since the end of World War II."
The Nazi-hunting Simon Wiesenthal Centre rallied behind the calls for a ban, dubbing the event an "anti-Semitic Hatefest".
"The fact that this hatefest is to be held in Brussels, the capital of Europe, the seat of its Parliament... is a threat to democracy reminiscent of the 1920s Weimar Republic, which brought Europe to the Nazi abyss," the center's director for international relations Shimon Samuels warned in a statement.
The leader of "Debout Les Belges!," far-right lawmaker Laurent Louis, upheld the invitation to the event in spite of the ban.  
"Our guests have confirmed they will be coming, and in any event - ban or no ban - you can meet them and spend an unforgettable day," Louis wrote on his Facebook page.
"Do not give in to pressure and come with your families, in calm and good spirits."