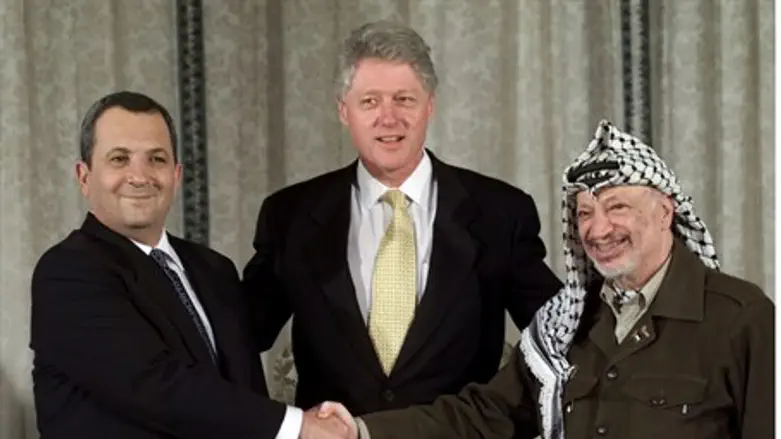 Clinton with Barak and Arafat (archive)
Reuters
Former United States President Bill Clinton claimed on Wednesday that Israel had offered the Palestinian Authority (PA) control of the Temple Mount in 2000.
Channel 2 News reported that Clinton's comments were made during a speech at Georgetown University in Virginia, during which he made some revelations regarding the Camp David Summit attended by himself, then-Prime Minister Ehud Barak, and then-PA Chairman Yasser Arafat.
"The Israelis offered to give it (the Temple Mount) to the Palestinians," Clinton was quoted by Channel 2 as having said.
"They disagreed about only 16 meters of the Western Wall, about which Israel was right," he continued, saying that the 16 meters in question were land leading to the Western Wall tunnels and that "if you got in, you could do mayhem to the ruins of the temples."
According to a report on CNN, during the speech Clinton dismissed criticism leveled towards him that the Camp David Summit had collapsed, saying, "Somehow you have to find a way to establish trust among adversaries Agreement is not nearly as important as trust."
He continued, "Everybody talks about the collapse of Camp David. That is a big load of bull. Camp David was a roaring success in my point of view because they had never sat together and talked about all these issues."
It is known that during the 2000 summit, Barak had made Arafat an unprecedented offer including Israeli redeployment from 95% of Judea and Samaria and 100% of Gaza; the creation of a Palestinian state in the areas of Israeli withdrawal; the removal of isolated communities and transfer of the land to Palestinian Arab control; other Israeli land exchanged for settlements remaining under Israeli control; Palestinian Authority control over eastern Jerusalem, including most of the Old City; "Religious Sovereignty" over the Temple Mount, replacing Israeli sovereignty in effect since 1967.
Arafat rejected the offer and proceeded to begin the Second Intifada, also known as the Oslo War, in which more than 1,000 Israelis were killed in murderous terrorist attacks.
Clinton's speech comes just one day after the latest round of peace talks officially failed, as a deadline set for reaching a full peace treaty expired without a deal.
Israel officially pulled out of the talks last week, in response to a unity pact between Fatah and the Hamas terrorist group and has begun to implement sanctions on the PA following the pact.
The latest talks were led by Secretary of State John Kerry, who single-handedly dragged the sides back the negotiations after a three-year hiatus.
Despite the failure, however, Kerry's spokeswoman said Tuesday that he "has not a moment of regret about every ounce of time he's spent on this effort."
"We've reached a point... where a pause is necessary... a holding period, where parties will figure out what they want to do next," said Jen Psaki.