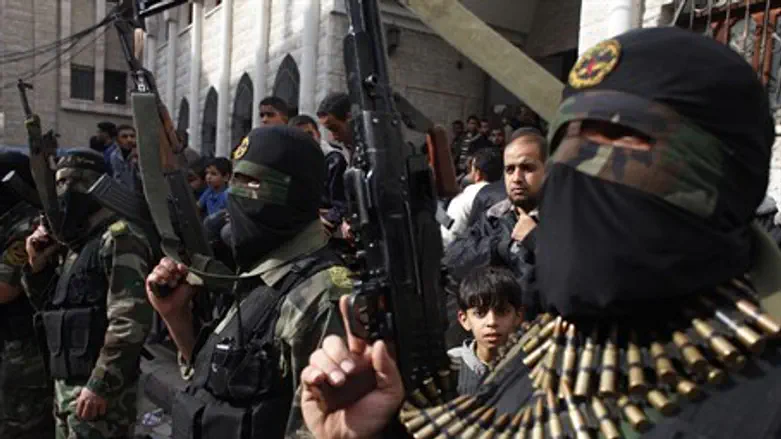 Islamic Jihad terrorists in Gaza
Reuters
Despite last week predicting its failure, the Islamic Jihad terrorist group is trying to join in on the Hamas-Fatah reconciliation agreement.
Sources in the group told the Ma'an news agency that three senior leaders of the group traveled from Gaza to Egypt via the Rafiah crossing on Wednesday.
According to the sources, Muhammad al-Hindi, Nafith Azzama, and Khaled al-Batsh traveled through Egypt to convene with other faction leaders for meetings on the recent reconciliation deal.
The leaders will consider the ways Islamic Jihad could be involved in the unity government, which is due to be set into place within four weeks, the sources told Ma'an.
It is the first time the leaders have been allowed into Egypt since the military ouster of Muslim Brotherhood president Mohammed Morsi in July, the news agency noted.
According to the deal announced last Wednesday, Palestinian Authority (PA) Chairman Mahmoud Abbas is scheduled to issue a "presidential decree" announcing the dates for elections, which PA officials said would likely take place within the next six months.
Khalil al-Hayya, a senior Hamas figure and member of the Hamas parliament, told the Arab news channel Al-Khuttab on Tuesday that Hamas leadership decided to take part in the coming elections for "Palestinian president."
The participation would be conducted either by presenting an official Hamas candidate, or by supporting a national candidate who presumably would identify with Hamas, he said.
Cracks have already appeared in the unity agreement, as senior Hamas leader Mahmoud Al-Zahar declared on Tuesday that Hamas will never recognize Israel's right to exist or put its terrorist army under Palestinian Authority (PA) control.
Those comments are contradictory to ones made by Abbas, who declared on Saturday that the new government will "obey my policy," and would "recognize Israel and reject violence and terrorism, and recognize international commitments."