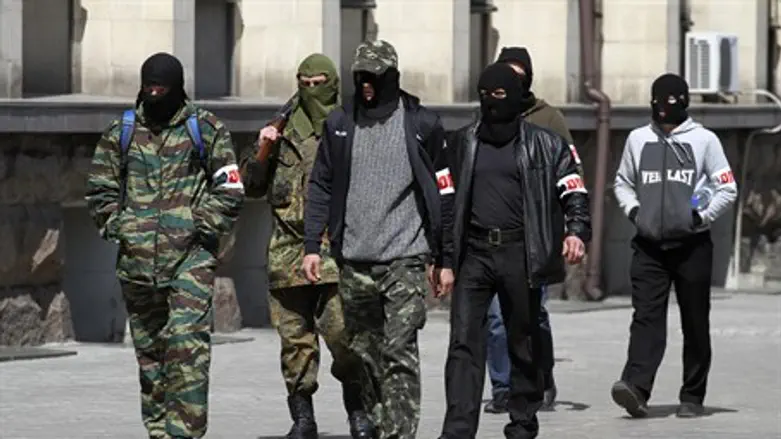 Pro-Russia militiamen in Donetsk, Ukraine
Reuters
The Jewish mayor of the eastern Ukrainian city of Kharkiv, Gennady Kernes, has been shot in the back by unidentified gunmen, the city council's press service reports.
RT reported that at about 11:30 am local time, Kernes was taken to the local hospital. The City Hall's website says that doctors are fighting to save his life.
The rabbi of Kharkiv, Rabbi Moshe Moskowitz, told Arutz Sheva that the mayor is being operated on and that security forces are attempting to catch the shooters. The rabbi said the mayor had been jogging and was apparently shot in the back many times.
"This is a very dear Jew, with a warm and loving connection to the community, and we are shocked by the assassination," said the rabbi. "We are praying for his health – Moshe son of Hana."
"They shot him in the back from the forest," Kernes's friend Yury Sapronov told Vesti Ukrainy, a news outlet. "The injury is serious. His lung is pierced and his liver pierced all the way through."
Kernes was shot while jogging, cycling or taking a dip in a spring, according to conflicting media reports. The doctors are currently performing the surgery, Yury Sidorenko from mayor's press service told RT.
Sidorenko said he did not have any information about whether Kernes had regained consciousness.
He declined to comment about who was behind the shooting. He only said that Kernes "has been recently receiving a lot of threats from various people."
Kernes has been described as a "mini-oligarch" - a successful businessman wealthy enough to launch a career in politics.
A mayor of Kharkiv since March 2010, Kernes had been a strong supporter of President Viktor Yanukovich right till his ouster in February. More recently he said he no longer backed the ousted president but supported a united Ukraine.
The shooting comes a day after ultranationalists clashed with anti-government protesters in the city, leaving 14 people injured.
The mayor can be seen calming down protesters in a video uploaded two weeks ago.
Kernes is an extrovert who is fond of uploading photos of himself exercising to Facebook. At least one such photo can be seen in this Russian language report about the shooting.