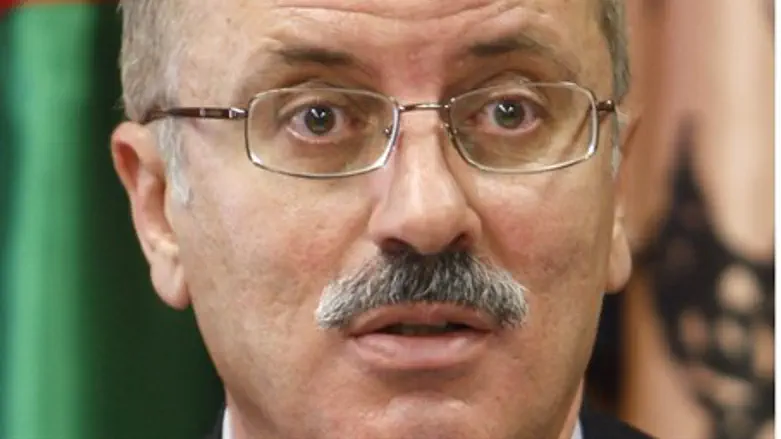 Rami Hamdallah
Reuters
The Palestinian Authority's (PA) Prime Minister Rami Hamdallah offered to step down on Friday in a move which may pave the way for a unity government agreed between PA Chairman Mahmoud Abbas and Hamas, Al Jazeera reports.
"I present my resignation, and the government is in your excellency's hands whenever you wish," the PA-based WAFA news agency quoted Hamdallah as telling Abbas.
Hamdallah, whose role is limited to domestic governance, offered his resignation last year in a dispute over his powers, but retracted it shortly afterwards.
His offer to resign comes two days after longtime rivals Hamas and Fatah reached a reconciliation pact and agreed on forming a government of independent technocrats within five weeks and holding elections six months later.
Israel responded to the pact by suspending peace talks with the PA and imposing new sanctions on it.
Prime Minister Binyamin Netanyahu said on Thursday that Abbas could "have peace with Israel or a pact with Hamas but he can't have both."
He said his country could not negotiate with an administration that embraces a terrorist group sworn to Israel's destruction.
"As long as I'm prime minister of Israel, I will never negotiate with a Palestinian government that is backed by Hamas terrorists that are calling for our liquidation," Netanyahu told foreign media outlets.
On Friday, U.S. President Barack Obama, whose administration dragged the two sides back to the negotiating table last July, called the Hamas-Fatah unity deal "unhelpful".
"The fact that recently President Abbas took the unhelpful step of rejoining talks with Hamas is just one of a series of choices that both Israel and the Palestinians have made which are not conducive to solving this crisis," Obama said.
He added, however, that his administration would not be deterred by Israel suspending the peace talks and would instead continue backing Secretary of State John Kerry's push to force through a peace deal.
Kerry, for his part, called for "compromises" from both sides on Thursday, saying, "We will never give up our hope or our commitment for the possibilities of peace."
(Arutz Sheva's North American Desk is keeping you updated until the start of Shabbat in New York. The time posted automatically on all Arutz Sheva articles, however, is Israeli time.)