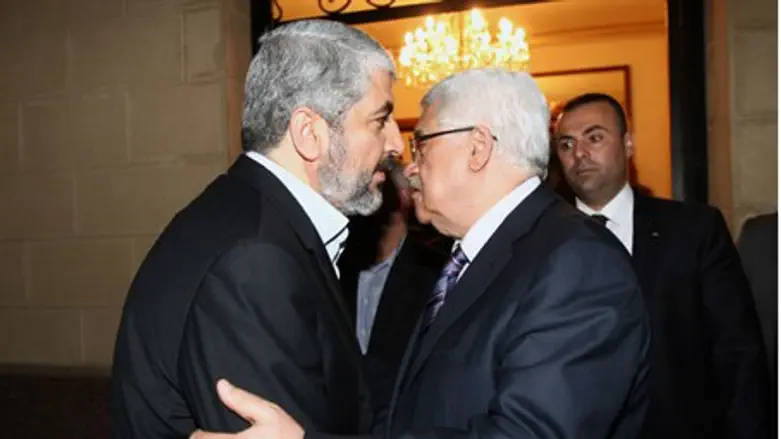 Hamas leader Khaled Mashaal with Mahoud Abbas
Flash 90
Israel has canceled a planned session of 'peace talks' with the Palestinian Authority (PA) that was scheduled for Wednesday evening, following the announced Hamas-Fatah reconciliation deal.
Initial Israeli reactions to the deal came from the nationalist side of the map.
Deputy Foreign Minister Ze'ev Elkin (Likud-Beytenu) said that the PA "once again has exposed the true unity of purpose between the hamas terrorists and the Fatah leaders – the annihilation of the Jewish state."
"One should not be surprised that those who refuse to even discuss recognition of the Jewish state in any borders whatsoever, and pays huge salaries to Palestinian terrorists who murdered Israelis and are doing time in Israeli jails, finally found his natural place in the warm embrace of the Hamas murderers."
Foreign Minister Avigdor Liberman (Likud-Beytenu) said that PA head Mahmoud Abbas "needs to decide if he wants to make peace, and if so – with whom. One cannot make peace both with Israel and Hamas, a terror organization that calls for the annihilation of Israel.
"The signing of an agreement on a unity government of Fatah and Hamas is also the signing of the end of negotiations between Israel and the PA," he declared.
Liberman's statement echoed a similar sentiment voiced earlier in the day by Prime Minister Binyamin Netanyahu. Abbas "has to choose," he said. "Does he want peace with Hamas or peace with Israel? You can have one but not the other. I hope he chooses peace, [but] so far he hasn't done so."
Jewish Home chairman, Economics Minister Naftali Bennett, stated that "Hamas will continue to send terrorists to murder Jews and Abu Mazen [Abbas] willl continue to demand their release. Whoever thought of Abu Mazen as a partner needs to recalculate his route."
"The agreement joining Fatah, Hamas and Islamic Jihad puts the Middle East in a new era," Bennett added. "The PA has become the largest terror body in the world, just 20 minutes from Tel Aviv. Just as the US does not talk to Hamas, Islamic Jihad and Al Qaeda, Israel has to state clearly: no talks with terrorists."
Deputy Minister Rabbi Eli Ben Dahan (Jewish Home) stated that Abbas "took another step away from a peace deal with Israel, and on the other hand has moved closer to terror organizations that call for the annihilation of Israel."
MK Ayelet Shaked (Jewish Home) said that "from today, Abu Mazen is the target for every Kassam rocket." In other words – Israel may militarily target Abbas in restaliation for roickets fired by Hamas.
"Israel cancelled the negotiations meeting that was supposed to take place this evening," Ofir Gendelman, a spokesman for Prime Minister
Benjamin Netanyahu, said on his official Twitter feed.
Chief Palestinian negotiator Saeb Erakat told AFP, however, that no meeting with the Israelis had been planned for Wednesday.
"Netanyahu stopped the negotiations a long time ago," Erakat said. "He chose the settlements instead of the peace. He is demolishing the peace process."
He said that the Palestinians would meet bilaterally with US envoy Martin Indyk in Ramallah on Thursday.