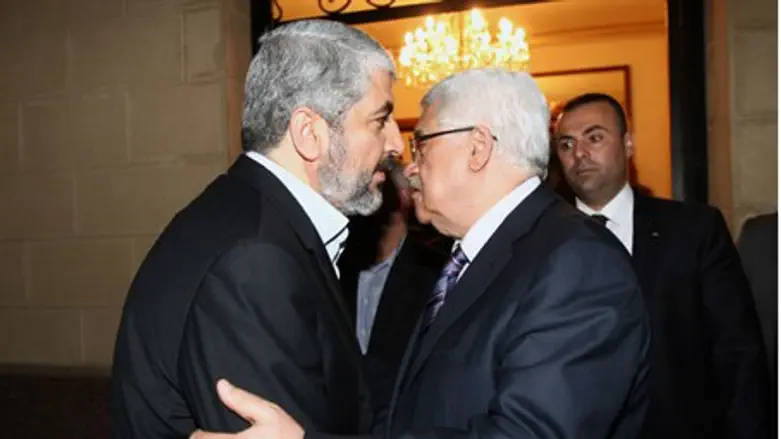 Hamas leader Khaled Mashaal with Mahoud Abbas
Flash 90
Representatives of Fatah and Hamas have reportedly decided to form a unity government within the "next five weeks" according to officials from the groups on Wednesday.
The agreement was made during a meeting in Gaza on Tuesday between Hamas and members of Palestinian Authority (PA) Chairman Mahmoud Abbas's Fatah faction, the main component of the Palestine Liberation Organization (PLO). 
In the talks, which were set to continue into Wednesday, "there has also been progress on the holding of future elections and the composition of the PLO," a PLO official told AFP on condition of anonymity.
However there is room to doubt whether the agreement between the rival groups of Fatah and Hamas will hold; in 2011 the two signed a reconciliation accord in Cairo which has yet to be implemented.
Nevertheless, Hamas leader Ismail Haniyeh called for reconciliation earlier on Tuesday "in order to form one government, one political system and one national program."
Azzam al-Ahmad, a senior member of Fatah representing the faction in the talks, responded by saying "I am happy that the time has come to end divisions."
Moving away the peace talks and towards Hamas?
The new moves come as the peace talks are fast approaching their April 29 deadline.
Abbas on Tuesday reiterated his threats on Israel that he would disband the PA if the talks didn't continue, and set a three-month building freeze on Judea and Samaria as a condition for extending the talks.
Prime Minister Binyamin Netanyahu has criticized the PA for turning towards the PA and endangering the peace talks.
"The Palestinian Authority, which yesterday was talking about its dismantlement, is today talking about unity with Hamas," which fiercely opposes any peace talks with Israel and calls for its destruction, Netanyahu said.    
"They need to decide... Do they want to dismantle themselves or to unite with Hamas? When they want peace (with Israel), they should let us know."