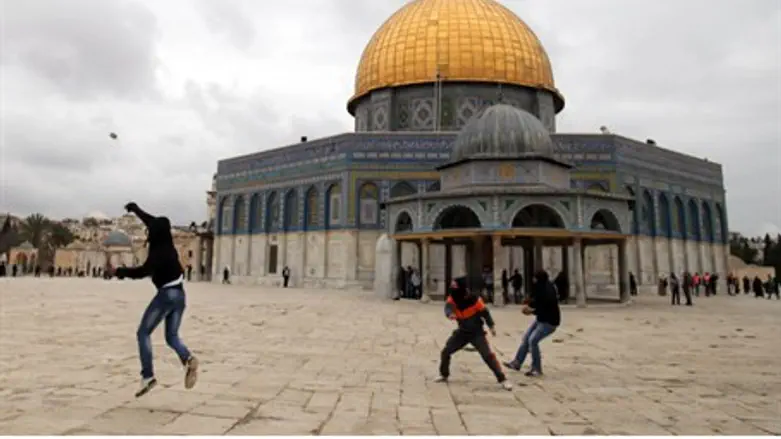 Rioters pelt police with stones on Temple Mou
Flash 90
Dozens of Arab youth rioted in Jerusalem on Friday, as they tried to break through police barriers by the Shalem police station near the Damascus Gate, located on the eastern end of the Old City's northern wall.
Police used riot dispersal means to push them back; no injuries were reported on either side.
Hundreds of Jerusalem police on Friday began taking position around the Temple Mount in preparation for the end of Muslim prayers, when intelligence reports earlier in the day revealed Arab riots were planned to be held.
In response, police placed limits on Muslim visitors. Jerusalem police commander Nitzav Yossi Pariente ordered that only Muslim men over the age of 50, and women of any age, be let into the Temple Mount, and additionally only those with blue teudot zehut (identification cards), held by Israeli citizens and residents.
Further, police cleared the Sultan Suleiman road located just outside the Damascus Gate earlier on Friday.
All those wishing to enter the Old City through the Damascus Gate were subject to a thorough search, in an attempt to prevent the reportedly planned riots. The area is a frequent scene of disturbances, as well as numerous stabbing attacks targeting Jews.
The Temple Mount was closed to Jewish visitors by police on Wednesday and Thursday following Arab rioting on Wednesday at the Temple Mount, when firecrackers and rocks were hurled at police. 
The most recent spate of clashes on the Temple Mount started on Monday morning before Passover, when dozens of Hamas activists took over the holy site while waving Hamas flags and barring Jewish visitors from entering.